Health Costs Could Rise If the Government Loses These Proposed Lawsuits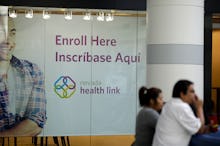 Health care is notoriously pricey, with costs rising faster than wages despite passage of the Affordable Care Act in 2010.
Unfortunately, the situation for consumers could get even worse. 
The U.S. Justice Department is currently moving to block two proposed health insurance mergers — between Anthem and Cigna, and Aetna and Humana, respectively — that could make out-of-pocket costs rise even more by reducing the number of major health insurers from five to three, the New York Times reported.
"Prices may go up either way," David Friend, managing director at BDO, told the New York Times. "But if they do not block [the mergers], people can say you created this problem by allowing competition to disappear."
The newly combined firms would be giant, each with revenues in excess of $100 billion, the Wall Street Journal reported. 
The companies have reportedly agreed in merger documents that they will fight any government lawsuits in court, though Anthem and Cigna might now be incentivized to simply walk away from the proposed takeover, an analyst told Bloomberg.
Aetna has also reportedly begun preparing to sell off assets to try to shrink enough to quell concerns that the new company would be too big, Bloomberg found.
The Justice Department is planning to argue that by allowing the mergers, there wouldn't be enough insurers to have adequate competition, the New York Times reported. Increasing competition through online marketplaces was a key cost-reduction measure of the Affordable Care Act. 
The U.S. seems to have been flexing its muscles lately to prevent corporate deals that it deems bad for American consumers. In April, the Treasury Department issued new regulations that blocked a merger between two giant drug companies, Pfizer and Allergan, CNBC and Reuters reported.
That the government is getting a little more aggressive isn't wholly surprising: President Barack Obama issued an executive order in April that encouraged regulators to take greater steps to keep markets competitive. His administration has also been critical of mergers that aim to take tax dollars overseas. 
Some in favor of the mergers argue the deal could be good for consumers: One other byproduct of the ACA has been a wave of consolidation among hospitals, who now have more leverage in their negotiations with insurance providers. Insurers claim the mergers will help them push back, making it easier to pass on savings to customers.
Read more: