Milo "@Nero" Yiannopoulos, King of Trolls, Called for Mass Censorship in a 2012 Essay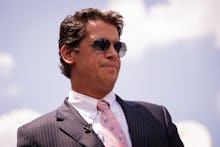 Late Tuesday, Twitter banned right-wing agitator, Breitbart editor and social media provocateur Milo Yiannopoulos, also known as @Nero. The ban came shortly after Ghostbusters actress Leslie Jones highlighted a torrent of racist abuse she received on Twitter, which came as an apparent reaction to Yiannopoulos' negative movie review.
"L'affaire Milo" has sent Yiannopoulos' fans into a rage — but perhaps they shouldn't be angry at Twitter. As it turns out, Yiannopoulos himself was once a major advocate of mass internet censorship, including banning trolls from social networks.
Back in ancient times — aka 2012 — Yiannopoulos was the editor of an online magazine called the Kernel. In an article titled "The Internet Is Turning Us All Into Sociopaths," he unintentionally predicted both the Leslie Jones debacle and his own eventual ban.
"I have in the past argued for verified identities on social networks, so those responsible for abuse and persecution of public figures and the vulnerable might be held accountable for their actions," Yiannopoulos wrote.
Online trolls are "terrifying," Yiannopoulos wrote, "and it occurs to me that one of the great challenges of the next decade will be how we, as a society, manage those people unable to manage themselves."
Saying existing moderation and identity verification tools were inadequate to meet the threat, Yiannopoulos argued that "perhaps what's needed now is a bolder form of censure after all, because the internet is not a universal human right. If people cannot be trusted to treat one another with respect, dignity and consideration, perhaps they deserve to have their online freedoms curtailed.
"We ban drunks from driving because they're a danger to others. Isn't it time we did the same to trolls?"
Yiannopoulos wrote about trolling in another essay, "The Schoolteacher Who Moonlights as a Troll," in which he mentions a person who taunted him for tweeting about an abusive partner in his past. "I am revealing his identity in the hope that others will think twice before treating their fellow man with hatred and contempt," Yiannopoulos wrote. The subhead of the story says he hopes "it will give others pause for thought before posting vile messages on social networks."
Mic has reached out to Yiannopoulos for comment.
Read more: