Hillary Clinton Leaked Footage on Snapchat of How Chris Christie Really Feels About Her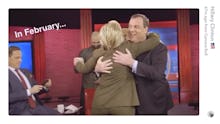 Hillary Clinton trolled New Jersey Gov. Chris Christie on Snapchat on Wednesday, releasing footage of a friendly meeting between the two then-presidential candidates from February.
In the footage, Christie gives the candidate a hug, wishes her luck in the primary and adds that Clinton should also get her own flavor of Ben & Jerry's ice cream, like the one Sen. Bernie Sanders had.
Clinton's campaign leaked the friendly footage between the two politicians the day after Christie held a "mock trial" against her in a prime-time speech at the Republican National Convention, in which he sought to litigate her alleged "crimes."
Christie's speech led to dark chants of "lock her up" from the thousands of delegates gathered at the convention in Cleveland's Quicken Loans Arena.
The night of Christie's speech, Clinton also had a fiery response to the Donald Trump-backing New Jersey governor — who is facing legal woes of his own over the allegedly politically motivated closure of the George Washington Bridge in 2013.
"If you think Chris Christie can lecture anyone on ethics, we have a bridge to sell you," the Clinton camp wrote in a tweet.
Read more: