Here's What 'Hamilton' Tickets Cost Now That Lin-Manuel Miranda Has Left The Show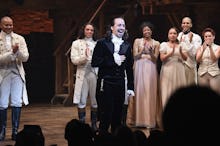 Tickets to the hottest — and most expensive — show on Broadway have gotten measurably cheaper since it lost its leading man, according to new data provided to Mic by ticket resale marketplace SeatGeek. 
Back in June, when news leaked that Hamilton's star, Lin-Manuel Miranda, would leave by early July, hopeful theatergoers drove up resale ticket prices to more than $1,300 per seat on average, a SeatGeek representative said. 
Now, the average resale price is about half that, and —  if you're willing to see the show on short notice — you might even be able to secure tickets for less than $400 each.
If you want to buy Hamilton tickets directly from the box office, the show is currently sold out through May 2017. Prices for spring 2017 direct-sold tickets ranged between $179 and $849.
The recent drop in price following Miranda's departure shouldn't come as a huge surprise: In addition to conceiving, writing and composing most of the music for the show, Miranda also played the titular role of Alexander Hamilton, with a performance that was by many accounts electrifying. The show has won 11 Tony Awards, a Grammy and a Pulitzer. 
Before you get too disappointed at having missed Miranda, know that his replacement — Javier Muñoz — is no stranger to the part. He has been Miranda's alternate for a long time: He served as alternate for Miranda's role in his previous hit show, In The Heights, and he's also played the lead in Hamilton's Sunday performances.
And while — even after the price drop — Hamilton tickets may still cost half of what the typical American worker makes in a week, per Bureau of Labor Statistics data, there is always the daily lottery for $10 tickets.
Read more: