Black Republicans at the 2016 RNC Open Up on Why They Support Donald Trump for President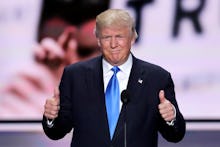 CLEVELAND — Donald Trump wasn't Roussan Etienne's first choice for president. Or his second. Or his third.
The fire department chaplain and state Senate candidate from Prince George's County, Maryland, originally backed his friend and mentor Ben Carson for president, hoping to see the retired neurosurgeon take his "faith-based" values to 1600 Pennsylvania Avenue. If America couldn't have Carson, though, Etienne would have been perfectly fine with Sens. Marco Rubio of Florida or Ted Cruz of Texas.
So how is Etienne dealing with the nomination of Donald Trump — a brash Manhattan billionaire known more for his libertine lifestyle and often boastfully vulgar demeanor than, say, his scriptural literacy? 
"There's no reluctance there," the alternate delegate for Carson said Wednesday, one day before Trump is slated to formally accept the Republican presidential nomination at the party convention here. "Before, maybe. But we all have to come together. He's in. He's the nominee."
The way Etienne sees it, Trump may not be the beau ideal of Christian values — but that might not be precisely what the country needs.
"You may not like his actions, but he's going to let you know what's on his heart and mind," Etienne told Mic, saying that he sympathized with Trump's self-identification as a "counterpuncher" who hits back hard when attacked. 
A decided minority: Etienne's support for Trump bucks political trends among his fellow African Americans, who overwhelmingly back presumptive Democratic nominee Hillary Clinton. A Quinnipiac poll in late June found Clinton walloping Trump among black voters, taking 91% of their votes to Trump's 1%. Only 18 of the 2,472 delegates at this year's convention are black — the lowest portion in at least 100 years, the Washington Post reported.
For many African-Americans, Trump will always be the rabble-rouser who asserted that the nation's first black president was a foreign-born usurper, demanded the execution of five young black men wrongfully accused of a rape in Central Park and once told a business associate that "laziness is a trait in blacks."
But John Burnett, who works in finance and also serves as an adviser to the New York State Republican Committee, sees Trump differently, emphatically rejecting the notion that the businessman is a racist.
"How many racists do you know who would go on a rap album?" Burnett said, noting that Trump appeared in a 2000 Method Man album and has palled around with rap artists. "He's always had a relationship with the black community."
Trump is looking to make inroads with black voters, announcing the hire of former Apprentice contestant Omarosa Manigault to direct his African-American outreach efforts and inviting Lynne Patton, an executive at son Eric Trump's charitable foundation, to speak during the convention.
"Historically, black lives have mattered less. My life mattered less. Whether we like it or not, there are people out there who still believe this to be true," Patton said during her Wednesday night speech, in which she lauded the Trump family for treating her like one of their own.
In a moment that roused delegates, Patton said, "I am proud to stand before you tonight in support of Donald Trump, not just in spite of the color of my skin, but in fact because of the color of my skin."
Why the GOP? Just as Patton's close relationship with the Trumps led her to support the GOP standard-bearer, Etienne and Burnett both came to the Republican Party as a result of relationships they forged as adults. 
A registered independent for 25 years, Etienne joined the GOP only last year, when he determined that he would go all in to elect Carson president. The pair's friendship formed at a luncheon attended by an overwhelmingly white crowd of prominent Marylanders. As the only two black men there, "we kicked it off very well," Etienne said. 
The more the two devout Christians talked, the more Etienne realized he belonged in the GOP.
"We keep taking God out of everything," he said. "'In God we trust' is gone now."
The New York University-educated Burnett, meanwhile, long considered himself a Democrat. His long and winding journey to the Republican Party commenced nearly 20 years ago, stemming from lively discussions with a colleague at the stock brokerage firm Dean Witter.
"We started talking about Republican values," Burnett said. "Those values weren't foreign to me. I grew up with conservative Democratic parents from the South, with Southern values."
But even as Burnett's experience working in finance moved him further rightward on economic issues, he hardly considered himself a party man. He backed Democrat Al Gore over George W. Bush in 2000, voted for Bush's reelection in 2004, and then lent his support to Barack Obama in 2008, amid the economic tumult of the Great Recession. Disappointed in Obama's performance, Burnett pulled the lever for Mitt Romney in 2012.
"I don't trust her": Though he's shown a willingness to cross party lines, Burnett said there was never any doubt he'd oppose Clinton's White House bid.
"I don't trust her. When you look at her, she thinks she's above the law," he said. "How's a person who's above the law going to help other people?"
Burnett also castigated Clinton for supporting her husband's tough-on-crime policies in the 1990s, saying they led to the mass incarceration of blacks.
'It was the Clintons that came up with 'three strikes and you're out,'" Burnett said, referring to a provision of the 1994 crime bill that imposed mandatory life sentences on violent felons who had committed at least two prior offenses. "It decimated the black community."
Yet while both Clintons have softened their stance on crime and sentencing as the Black Lives Matter movement has continued to reshape progressive politics, Trump has pined for the days when cops were "tough cookies" who showed no mercy to suspected offenders.
"You've got to stop it. You're not going to stop it by being nice. You're going to stop it by being one tough son of a bitch," Trump said in an interview with the Chicago Tribune last year, prescribing his solution for that city's rise in crime.
Responding to the assassinations of police officers in Dallas, Texas, and Baton Rouge, Louisiana, Trump has also pitched himself as the "law and order candidate" in recent weeks. But Burnett sees no contradiction between his advocacy of criminal justice reform and his support for Trump.
"You can't get worse than what the Clintons did," he said. "What [Trump] is talking about is simply respect for law enforcement and the rule of law."
While Trump remains something of a policy wild card, both Etienne and Burnett are attracted by his promise to shake up the political status quo. 
"From every level, people don't want the right people in anymore," Etienne told Mic, saying that's both why he supports Trump and is running for office himself.
And while Burnett — who made an unsuccessful bid for New York City comptroller in 2013 — is no stranger to electoral politics, he said this unconventional election had him more engaged than ever.
"I don't think I'd have been here if it wasn't history," Burnett said.
Read more: