What Happened at the GOP Convention Day 3: Ted Cruz Earns the Wrath of His Party and More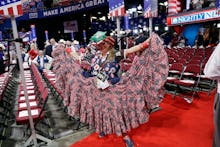 The first night of the 2016 Republican National Convention was marked by apocalyptic speeches on the dangers the United States faces from external enemies like the Islamic State group and internal enemies like cop-killers and Black Lives Matter. The second night was billed as a night on the economy, but quickly devolved into a show trial for presumptive Democratic nominee Hillary Clinton and off-script accusations of Satanism.
Wednesday's theme was "Make America First Again" (a notably dubious choice, given the WW2-era committee, America First Committee, known mostly for urging the United States to avoid war with Nazi Germany). And as its title and the precedent set by previous nights would imply, Republicans put on a performance for the ages.
Speakers included radio host Laura Ingraham, Florida Attorney General Pam Bondi, Wisconsin Gov. Scott Walker, Florida Sen. Marco Rubio, Texas Sen. Ted Cruz, Eric Trump, Newt and Callista Gingrich and Indiana Gov. Mike Pence, Trump's running mate. Pence was joined on stage by the big man himself.
Here are the biggest stories from Day 3.
Florida Gov. Rick Scott gave an introduction speech saying the "survival of the American dream" was at stake.
Scott said that the nation was not at a crossroads, but something more dire: a Democratic Party leading the country "off a cliff."
"This year we get to fire the politicians," Scott continued. "And who better to let the politicians know 'you're fired' than Donald Trump? We need a president who is politically incorrect and who will tell it like it is."
Laura Ingraham launched into a (probably completely unintentional) Sieg Heil.
The unfortunate moment was promptly turned into a gif where it caught fire — and was celebrated by at least one neo Nazi — on Twitter.
Florida Attorney General Pam Bondi attacked Clinton as corrupt and incompetent.
"Lock her up, I love that," Bondi added, triggering a spat of jokes about accusations Bondi was bribed into not investigating allegations of fraud at Trump University.
Bondi also said Trump will roll back Obama's "unconstitutional" policies, as well as "take control of our borders."
"Hillary believes our enemies deserve our respect and empathy," Bondi continued. "Donald Trump believes terrorists deserve to die."
Michelle Van Etten stammered through her speech.
Van Etten, who sells dietary supplements of dubious medical value, forgot much of the tail end of her speech about circuses.
But she recovered, saying Trump is the ringmaster our political circus needs.
Seriously.
Wisconsin Gov. Scott Walker led the crowd in a series of chants about how "America deserves better" than Clinton.
Clinton is the "ultimate Washington liberal insider," Walker said, adding if she was "any more on the inside, she'd be in prison."
But earlier in the race, Walker urged other candidates to leave the primary contest so that a non-Trump challenger could unify the field against him.
Ted Cruz told a booing crowd "vote your conscience" as he refused to offer his endorsement.
Trump's most bitter rival to emerge from the Republican primaries mentioned the nominee's name only once, relying instead upon ambiguities. Cruz said he wanted to see GOP principles prevail — but didn't specify under whom.
"I want to congratulate Donald Trump for winning the nomination last night," he said. "And like each of you, I want to see the principles that our party believes prevail in November."
"We stand here tonight a nation divided. Partisan rancor, anger, even hatred are tearing America apart," the senator said. "And citizens are furious — rightly furious — at a political establishment that cynically breaks its promises and ignores the will of the people. We have to do better. We owe our fallen heroes more than that."
"And to those listening, please, don't stay home in November. Stand, and speak, and vote your conscience, vote for candidates up and down the ticket who you trust to defend our freedom and to be faithful to the Constitution," Cruz said, which sounded more like a plea for voters to consider all their options than it did an endorsement of the chosen nominee.
The audience shouted Trump's name, booed and pushed Cruz to endorse Trump, but Cruz didn't budge.
Trump walked in at the end of Cruz's speech, the crowd booed Cruz off the stage.
True to self, Cruz went approximately 13 minutes over his allotted time.
Meanwhile, the Clinton camp came out strongly in favor of Cruz's choice of words.
An undeterred Trump later mocked Cruz's speech from the comfort of his Twitter account.
Newt Gingrich took the stage to hit cleanup and appease a seething crowd by offering a Cruz "paraphrase."
"I think you misunderstood one paragraph that Ted Cruz, who is a superb orator said ... you can vote your conscience for anyone who will uphold the Constitution," Gingrich said. "In this election, there is only one candidate who will uphold the Constitution."
"To paraphrase Ted Cruz, if you want to protect the Constitution of the United States, the only possible candidate this fall is the Trump-Pence Republican ticket."
Then Gingrich served up a healthy dose of Islamaphobic fear mongering. But first this:
"We have nothing to fear from the vast majority of Muslims in the United States or around the world. The vast majority are peaceful. They are often the victims themselves. They are people we would be happy to have as our friends and neighbors."
After which, came this:
"The challenge is when even a small percentage of a billion people support violence against those who disagree with them, that is still a giant recruiting base. For example, the research finds that only 9% of Muslims in Pakistan view ISIS favorably. Unfortunately, 9% is 16 million people. That is just one country."
And that is a figure the former speaker proceeded to blame on Clinton.
Eric Trump dwelt heavily on economic anxieties.
The middle Trump son said he had seen the look in his father's eyes seeing poverty, bureaucracy and stagnation around the United States.
Mike Pence formally accepted the vice presidential nomination, promising the crowd that "Hillary Clinton will never be the president of the United States of America."
"We will win because we are running on the issues facing this country and because we are leveling with the American people about the stakes and the choice," Pence told the crowd. "The American people are tired of being told. They're tired of being told that this is as good as it gets. Tired of hearing politicians in both parties tell us that we will get to that tomorrow while we pile a mountain range of debt on our children and grandchildren. As Ronald Reagan used to say, tired of being told that a little intellectual elite can plan our lives better than we can plan them for ourselves."
Pence touted his record as governor of Indiana, but also took the time to praise Trump as a politician who "gets it."
"He is a doer in a game usually reserved for talkers," said Pence of his running-mate. "What Donald Trump does is talking, he does not tiptoe around the thousand new rules of political correctness."
He also said the Benghazi scandal should "disqualify" Clinton from the presidency.
While Pence has a reputation as a rock-ribbed social conservative, he avoided issues like same-sex marriage and abortion throughout his speech, choosing instead to lambast the Democratic Party for supposedly abandoning the constituencies it once defended.
Although Trump was widely expected to take the stage with Pence, perhaps under the impression he had upstaged the V.P. nominee at his announcement speech last week, he chose to instead simply join him on stage to congratulate him away from the microphone.
What ensued was awkward, to put it mildly.
But tomorrow night, Trump will give the speech everyone has been waiting for in the most important speech of the entire convention.
Trump's formal acceptance of the nomination will be preceded by another slate of speakers, among them: motivational speaker Brock Mealer; U.S. Rep. Marsha Blackburn, Gov. Mary Fallin; National Diversity Coalition for Trump advisor Dr. Lisa Shin; RNC Chairman Reince Preibus, who is totally not freaking out; fire-and-doom social conservative Jerry Falwell Jr.; venture capitalist and Gawker supervillain Peter Thiel; venture capitalist Tom Barrack; and Trump's daughter, Trump Organization executive Ivanka Trump.
Read more: