New Video Shows Black Man Charles Kinsey Telling Police He's Unarmed Before Being Shot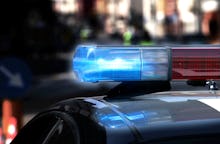 New cell phone video released Wednesday evening reportedly shows an unarmed black man laying in the middle of the road begging police officers to not shoot, but getting shot anyway. 
Charles Kinsey, a therapist who works at an assisted living facility, was trying to help an autistic patient that escaped from a group home on Monday. Police arrived in response to a 911 call regarding an armed man who was threatening suicide.  
"All he has is a toy truck," Kinsey can be heard saying in the video during the ordeal. "A toy truck. I am a behavior therapist at a group home."
Kinsey was then shot by North Miami Police, despite being unarmed and pleading with the officers, his hands in the air. He survived and was treated for his wound.
"I thought it was a mosquito bite, and when it hit me I had my hands in the air, and I'm thinking I just got shot!" the caregiver told WSVN. "And I'm saying, 'Sir, why did you shoot me?' and his words to me were, 'I don't know.'"
"Arriving officers attempted to negotiate with two men on the scene, one of whom was later identified as suffering from autism," North Miami Police said in a statement. "At some point during the on-scene negotiation, one of the responding officers discharged his weapon, striking the employee." 
On Thursday, John Rivera, head of the Dade County Police Benevolent Association, held a press conference in which he defended the officer, insisting the officer was actually aiming for Kinsey's patient.
"It appeared to the officers that the white male was trying to do harm to Mr. Kinsey," Rivera said, according to the Miami New Times. "The officers, realizing and believing that there was a firearm — many officers thought the white male had a firearm. Only much later, when we're able to 'Monday-morning quarterback' do we find out that it's a toy."
"It was scary at first when I first heard about it. I was hysterical, but right now he is doing good," Lashawn Young, Kinsey's ex-wife, told WLPG.
According to WLPG, the officer involved in the shooting has been placed on administrative leave while the Miami-Dade State Attorney's Office investigates.
July 21, 2016, 8:15 p.m.: This story has been updated.
Read more: