Republicans Turn on Ted Cruz After He Torpedoes Donald Trump's Convention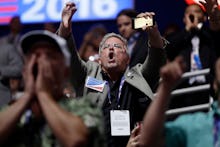 CLEVELAND — Delegates at the Republican National Convention unleashed their fury at Sen. Ted Cruz of Texas on Wednesday night, angrily denouncing the failed presidential candidate after he pointedly refused to endorse nominee Donald Trump during his primetime address.
Interviews with numerous delegates and Republican officials on the floor at the Quicken Loans Arena here laid bare the extent of their anger and frustration at Cruz, while others put the onus on Trump and his fervent army of supporters — evoking the heated primary contest between the Manhattan billionaire and the man he branded "Lyin' Ted."
"I was a little bit in shock because I was under the impression that Sen. Cruz did in fact sign the pledge saying that he would endorse the Republican nominee, and at this point it is Donald Trump," New York delegate John Catsimatidis Jr., 23, said.
Other members of the New York delegation were equally scathing.
"Cruz told us we need to come together and didn't endorse our candidate. It was a move of unparalleled hypocrisy," state Trump campaign co-chairman Joseph Borelli said.
John Antoniello, chairman of the Staten Island GOP, said that Cruz's remarks "proved once again he was Lyin' Ted."
Trump joined the chorus of condemnation, gleefully noting the boos Cruz attracted from the crowd.
But Rep. Steve King of Iowa, one of Cruz's leading congressional boosters, placed the blame for the evening's chaos squarely on Trump's supporters, for drowning out the senator with demands that he endorse the party's standard-bearer.
"You can be gracious in victory, or you at least should be," King said. "And there weren't complete signs of that tonight. And so that's very disappointing to me, the way they treated Ted Cruz and I think it's going to make it awfully hard for some people to come together."
Cruz himself avoided discussion of the jeers greeting his speech, telling Mic only that he appreciated the applause he received.
But not all Cruz supporters shared King's assessment.
"Outside the world of politics, if Donald Trump had said the things about my father and about me that he had said about Ted Cruz, it would be difficult to endorse him or recommend voting for him, even," said Laura Parker, a Cruz delegate from Maine, alluding to Trump's attacks on Cruz's family members. "So I kind of understand it, but I think he would have looked a little bit bigger if he had not necessarily even endorsed him but just recommended that we vote Republican in the fall."
Kay Godwin, a Georgia delegate, was more forgiving of the senator's obstinance.
"I am voting for Trump and Ted will vote for Trump, but after the way he treated him and talked about him, his family? No way," she said. "He [came] as close to supporting him as he should've come."
Evangelical leader Ralph Reed also saw no problem with Cruz's speech.
"He said, 'vote your conscience,' which for the overwhelming majority of the people supporting him is Donald Trump," Reed said.
For a party desperately seeking to mend the rifts of the primary season ahead of a tough general election battle against Hillary Clinton, though, Cruz's refusal to outright endorse Trump marked an embarrassing distraction — threatening to overshadow the speech later in the evening by Indiana Gov. Mike Pence, Trump's vice presidential running mate.
"Not a good move," former Republican National Committee chairman Michael Steele said of Cruz's decision not to endorse. "You want to bring [the party] together at this point."
To be sure, Cruz gave little reason to believe an endorsement was forthcoming, having withheld his support since exiting the race in May.
In remarks to reporters, Trump campaign chairman Paul Manafort said the campaign had received Cruz's prepared remarks at 6:30 p.m. Eastern time, and was aware that no endorsement would be offered.
"It is what it is," Manafort said. "We were disappointed that he didn't say something more positive, but we didn't have any commitments, we didn't ask for any commitments."
"I had no expectation one way or the other," Rep. Mark Sanford of South Carolina, who backed Cruz in the primary, told Mic. "Certainly interesting political theater."
For veteran entertainer Donald Trump, however, the show Wednesday night hardly went according to plan.
Celeste Katz, Stefan Becket and Sabrina Sayeed contributed reporting.