Baton Rouge Manifesto: Gavin Long Allegedly Called His Fatal Attack a "Necessary Evil"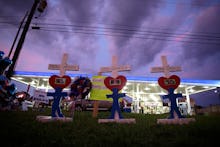 In an alleged handwritten manifesto, Gavin Long, the man who shot and killed three Baton Rouge, Louisiana, police officers and injured three others on Sunday, ostensibly said that his actions were a "necessary evil." Long was fatally shot by police after the events.
As first reported by BuzzFeed, Long emailed the three-page letter to Ohio resident Yarima Karama less than an hour before the officers were ambushed. The Marine veteran purportedly wrote that violence was needed to "create substantial change within America's police forces and judicial system." 
The letter, signed using the alias "Cosmo" Long used online, goes on about the battle between "good cops & bad cops."
"Right now there is a unseen & concealed war within America's police force between Good cops & Bad cops," the letter reads. "And the way the current system is set up, it protects all cops whether good or bad, right or wrong, instead of punishing bad cops & holding them accountable for their actions."
Long never mentions Baton Rouge specifically in the letter but references the killings of black men at the hands of police.
"Protected and unpunished bad cops forces melanated people to label the good cop as potential threats to the safety and well-being of our women, family, and children," Long allegedly wrote. Long also allegedly wrote that he will be "vilified by the media."
According to the Associated Press, authorities found other handwritten documents in Long's car and hotel. 
The murder of the Baton Rouge officers comes after protests following the killing of Alton Sterling, who was shot by officers while selling CDs outside of a convenience store.
Read more: