Ted Cruz Stands His Ground in Snubbing Donald Trump — Unlike His GOP Counterparts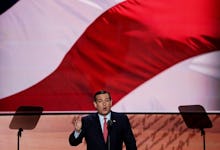 Republicans loudly booed and jeered at Sen. Ted Cruz Wednesday night after he urged Republicans to "vote their conscience" Wednesday night in a primetime address at the Republican National Convention — rather than endorsing GOP presidential nominee Donald Trump.
The bold move could endanger Cruz's political future, with many Republicans turning their back on him for ignoring the pledge he and the other GOP presidential hopefuls took earlier this year to support the eventual Republican nominee.
Yet Cruz's gamble not to endorse Trump puts him a step above the vast majority of Trump's 16 other vanquished GOP opponents, who throughout the primary process didn't just disagree with Trump's policies, they called him a fundamental threat to their party — and then endorsed Trump anyway.
The other felled presidential hopefuls questioned Trump's fitness to lead, said his policies were divisive and said he was a threat to the future of conservatism. And yet one by one, they came out to endorse Trump, many giving speeches at the convention to urge Republicans to vote for a man they once said was a threat to all they held dear.
That includes Wisconsin Gov. Scott Walker, who, when he dropped out of the presidential race in September, said defeating Trump was "fundamentally important to the future of the party and more importantly the future of the country" and encouraged other candidates to drop out in an effort to stop Trump.
"I encourage other Republican presidential candidates to consider doing the same so the voters can focus on a limited number of candidates who can offer a positive conservative alternative to the current front-runner," Walker said in his dropout speech, referring to Trump.
And yet, there Walker was on the convention stage Wednesday night endorsing the same man he said was a threat to the country's future.
"Donald Trump is standing with the American people," Walker said during his convention speech.
There was Sen. Marco Rubio — who turned ashen and looked ill during a press conference shortly before he dropped out of the presidential race in March and said Trump's violent and offensive rhetoric at his rallies had America "careening toward" chaos and anarchy.
"The great thing about our Republic is we settle our differences at the ballot box, not with guns or bayonets or violence. And you wonder if we're headed in a different direction today," Rubio said of the Trump effect in March, later saying he he was unsure if he could endorse Trump.
And yet Rubio touted Trump in a video address at the RNC Wednesday night, where the crowd broke out into multiple dark choruses of "lock her up" — referring to jailing presumptive Democratic nominee Hillary Clinton.
The list goes on.
Former Texas Gov. Rick Perry called Trump a "barking carnival act" and a "cancer on conservatism." And yet again, he too came out to endorse Trump and speak at the RNC in favor of his candidacy.
New Jersey Gov. Chris Christie, who's become one of Trump's biggest defenders, questioned Trump's Muslim ban, and wondered aloud whether Trump had the backbone to be president after he refused to attend a primary debate in February.
"What's that tell you about what we can expect if things go sideways when you go into the Oval Office? What are you going to do? Just go upstairs to the residence and say I'm not playing?" Christie said at the time. "You know, Vladimir Putin isn't being nice to me, I'm not going to return his phone call? The press isn't being nice to me, I'm not going to hold any more press conferences?"
And Christie was at the RNC, defending Trump against plagiarism allegations in Melania Trump's speech that turned out to be true, and rallying Republicans to get behind Trump in November.
Cruz, on the other hand, didn't follow that lead.
He chose not to fully endorse Trump, unsurprising given his comments in May, in which he called Trump amoral and a narcissist after Trump retweeted a meme calling Cruz's wife ugly, and accused Cruz's father of being part of the assassination of former President John F. Kennedy.
"This man is a pathological liar," Cruz said of Trump at a press conference in May. "He doesn't know the difference between truth and lies. He lies practically every word that comes out of his mouth. And, in a pattern that I think is straight out of a psychology textbook, his response is to accuse everybody else of lying."
However, there are a handful of Republicans in the primary who have refused to back Trump — and who did not show up to the RNC to snub Trump.
Former Florida Gov. Jeb Bush wrote in a Washington Post op-ed this week that Trump does not reflect "the principles or inclusive legacy of the Republican Party. And I sincerely hope he doesn't represent its future."
South Carolina Sen. Lindsey Graham has also been vocal in his Trump opposition, calling some of Trump's statements "un-American" and urging his fellow Republicans last month to rescind their endorsements of his candidacy.
Still, Cruz is taking heat for far less.
In his RNC speech, he congratulated Trump on winning the primary, but did not go one step further to give a full endorsement.
And, like he has for his past principled stunts — including leading a government shutdown in 2013 over Obamacare funding — Cruz may pay a political price for standing his ground.
Read more: