Michelle Obama Sings Beyoncé in Carpool Karaoke With Missy Elliott and James Corden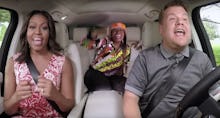 Michelle Obama hopped in James Corden's car for the late night host's famous carpool karaoke Wednesday, serving up both a powerful message for the youth and a whole lot of Lemonade. 
The first lady is the latest to go for a spin with the late night host, singing a variety of her favorite tunes, from Stevie Wonder's "Signed, Sealed, Delivered I'm Yours" to Beyoncé's "Single Ladies (Put a Ring on It)." They even sang "This Is for My Girls," a song created by some of music's most influential women (recruited by Obama herself) to promote education for young girls around the world. 
"We were making honey there in the hive," the first lady joked following the pair's simultaneous burst into the "Single Ladies" dance. "We were making honey to put in our Lemonade!"
Like any good carpool karaoke, Obama's wasn't without its surprises. Missy Elliott, who is featured on "This Is for My Girls," popped up halfway through the car ride in the back seat. The trio sang the track for education that's been given the presidential stamp of approval, then brought it back to "Get Your Freak on."
The first lady also revealed how the secret service chooses its code names for the president's family and what she'll miss most about living at the White House. There was even a joke about copying — an impressively prescient nod to the Melania Trump speech controversy, perhaps? (The segment was shot long before the speech, but it's hilarious in hindsight.)
Read more: