Here's Why Melissa McCarthy Thinks Plus-Size Clothing Rules are Bullshit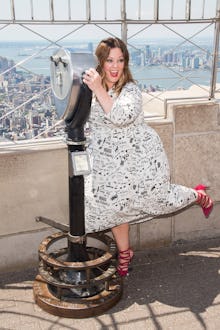 Melissa McCarthy has had starring roles in blockbuster movies and leading roles on critically acclaimed TV shows. Hell, she's even hosted Saturday Night Live four times. But that doesn't mean it's any easier for her to find clothes that fit her. 
In an interview with Chelsea Handler, McCarthy revealed that she has been working with designers for years to make clothes especially for her, because she couldn't find anything in her size. And that's partly because of the many stereotypes and unspoken rules that still surround plus-size clothing, and what women above a size, say, 12, want to wear, or even can wear. 
"After I was a size 12, it was like, apparently I'm done dressing!" McCarthy said. "Like, you literally can't go into a store and find anything, which I'd love for everyone to know."
In the past, McCarthy has been extremely outspoken about how ostracizing buying plus-size clothing can be, telling More magazine, "It's an odd thing that you can't go shopping with your friends because your store is upstairs hidden by the tire section." So for her own clothing line, Melissa McCarthy Seven7, she was insistent on catering to as many women as possible, meaning creating cute clothes for women who — gasp — dare to be a size 12 and above. 
"Women don't stop; I don't know why I would stop at a certain size," McCarthy said. 
But even then, according to the actress, buyers were having a hard time understanding what she was doing. She was breaking all of plus-size clothing's rules, which can be anything from "don't show the arms" to "prints just aren't for you, dear." 
"Certain stores buy only certain sizes because that's what they carry, but I've had people say, like, 'Well, women above a size 10 don't really want to wear print and they would never wear red,'" she said. "Women don't want sleeves. Women only want sleeves. Nobody wants a pocket. Nobody would wear a pant." 
It's too many contradictions. It's too many unnecessary rules. And according to McCarthy, it's all bullshit. 
"The nobodies, the shouldn'ts, what you can't do, what you can do ... and I'm always usually sitting there wearing what they're telling me nobody will wear," she said. "You can't make those blanket statements. It's like everybody wants to compartmentalize and put women in these little boxes and ... it's just all stupid." 
McCarthy is one of the few actresses in the spotlight now, along with Rebel Wilson and Leslie Jones, who isn't keeping quiet about just how difficult it is to not only be a plus-size woman in Hollywood, but also be a plus-size woman in the world. From the potential horror of the plus-size clothing section to being told you can't even wear prints, she has just had enough. 
You can watch more of McCarthy's interview with Handler below: 
Read more: