This 3,000-Year-Old Lost World Was Dug Up in England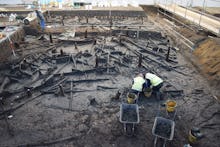 British archaeologists struck career gold when they discovered a perfectly preserved world straight out of the Bronze Age.
The Archaeological Unit from the University of Cambridge, has been excavating a site they've called the Must Farm Timber Platform, a site the team believes to date back to around 1,000 to 800 B.C., buried under a quarry two hours north of London.
According to the Must Farm website, researchers believe the settlement, which may have been home to somewhere around 50 to 100 people, was burned down, making the platform fall into the river below. When that happened, a non-porous clay called silt built up on top of everything, preserving it for the last 3,000 years.
The site is being called "Britain's Pompeii," since the silt-covered preservation of the Must Farm site is reminiscent of the Roman town that was buried in a 79-A.D. volcanic eruption. Except Must Farm is at least 800-odd years older.
Everything that has been excavated existed as day-to-day implements around 3,000 years ago, according to the excavation team. This is a rare moment of something so old being preserved so perfectly — and it'll help researchers better understand what the world was like, thousands of years before you or I stepped foot on it.
Read more: