Kate McKinnon Crashes the 2016 RNC as Ruth Bader Ginsburg, Delivers "Ginsburns"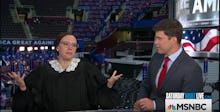 The 2016 Republican National Convention has been a chaotic circus thus far, and on Wednesday night, Saturday Night Live crashed the party to break it all down. SNL's "Weekend Update" team took over MSNBC and featured cast member Kate McKinnon as Supreme Court justice Ruth Bader Ginsburg. Like her performance in the Ghostbusters reboot, it stole the show. 
Faux Ginsberg was asked about her recent verbal sparring with Republican presidential candidate Donald Trump, whom she criticized for having an enormous ego and being a "faker." While Ginsberg later apologized, McKinnon made it clear she shouldn't be messed with. 
"Trump picked a fight with the wrong 15-pound, 200-year-old marionette, baby!" she proclaimed. 
McKinnon proceeded to deliver some "Ginsburns" to Trump and other members of the Republican party, including New Jersey Gov. Chris Christie, who Trump is rumored to be considering for the empty chair in the Supreme Court, should he be elected. 
"Chris Christie on the Supreme Court?" she posits. "I'd rather have an empty chair than a broken chair." 
If nothing else, McKinnon's impression will have fans impatiently waiting for SNL to return in the fall. In the meantime, watch McKinnon's segment from "Weekend Update" below.
Read more: