'Looking' Star Raúl Castillo Talks Movie, Representation and "Bittersweet" Endings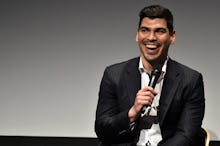 (Editor's note: Spoilers ahead for the first two seasons of Looking. Some details of the movie are mentioned, but no major plot points are revealed.)
In the 90-minute Looking: the Movie, a cinematic wrap-up for the gay HBO series of the same name, Patrick (Jonathan Groff) returns to San Francisco after months away. He sees his friends, attends a wedding, meets new people — but perhaps most significantly, he reconnects with old flame Richie (Raúl Castillo).
The movie, directed by series creator Andrew Haigh, hits HBO and streaming services HBO Go and HBO Now Saturday night. It serves as a bit of closure not just for fans, but for the stars themselves, Castillo especially. When the Mexican-American actor sat down with us for an interview the week before the film's release, he described the end of the series as a "bittersweet" end to a special show, but an important one.
"It's been such a great project, a dream project in so many ways, that it's sad to see it come to an end," he said. "But at the same time, I'm glad that we got to do a film and tie things up. A lot of shows get cancelled and don't have that opportunity. I think it would have been a real disappointment."
In our chat, Castillo talked about closure, the show's critics and the importance of representation on TV. This interview has been edited and condensed for clarity.
Mic: I was talking to Lauren Weedman (Doris on Looking) a few months ago, and she was telling me about how you all shot the final scenes of this movie at sunset in the Castro in San Francisco. It sounds like it was really emotional.
Raúl Castillo: We had a couple of scenes we were shooting down there, and we shot the last scene last. There was something really significant about being in that space at that particular time with our crew — a lot of whom were there every step of the way from the first season. To have that core group of us sitting [together] on those last moments, I just wanted it to last forever. I didn't want it to end. I really came to love that group of people, and I feel so lucky that I got to spend that time with them.
Do you think the movie works as a conclusion to the main series' story?
RC: I think it works on its own — I don't think you need to have watched the first two seasons to get it. [Director] Andrew Haigh has a deft hand when it comes to filmmaking; he's so artful, and he feels so comfortable in that mode. And it's amazing to get to go back and finish that story.
When you think back to your time shooting Looking, what first jumps to your mind?
RC: The way the fans have responded to the work. There were a lot of conversations initiated because of the show, whether positive or negative. It was just interesting to see what conversations were inspired by the show. Whether people liked it or not, I think it's a great starting point. There's a real need for more stories to represent the LGBT community, and other marginalized communities as well.
You mention the split between positive and negative reactions, and that existed from Looking's very first moment on earth, when HBO announced they were doing the show at all. Response was sharply divided immediately. What do you think it is about LGBTQ-focused shows that creates that divide?
RC: Any time you're representing a marginalized community, there's going to be a lot of expectations. When their community is being presented, for as diverse as that community is, audiences come with a lot of expectations. They want their own personal stories told. I get that. We're now at a time when networks and cable [networks] are paying attention to what kind of needs are out there. But I don't think that any one show is gonna answer all the questions a community has. 
To represent a community that's diverse, no one show's ever gonna do that. I see that even in the Latino community. Especially in this country, there's just a need for more representation. Whenever you put one, or even a couple of characters on-screen, people are gonna want more. And I think audiences should be demanding more.
What is it about representation that matters so much?
RC: I grew up in a time when Latino representation on TV was somewhat limited. Certainly, there were people who came before who opened the doors for the kinds of things that are happening now, but I think people are hungry to see themselves represented on-screen. The more we start seeing diverse representations, the more diversity we want. 
We're entering a time now when Spanish — I mean, five years ago, we were lucky if we got a couple of words of Spanish on a show. Now, we have shows like Narcos, where there's whole storylines. I just did an episode of a new Netflix show coming out in the fall called Easy, and my entire episode is in Spanish. That wouldn't have happened several years ago. Now, there's shows out there like Jane the Virgin, or Ugly Betty before that, that are paving the way.
Richie's boyfriend in the Looking movie, Brady, is very much the antagonist of the film. He's a blogger who writes about the right way to be gay, and what's wrong with the community. He even faces off with Patrick over it. It struck me that a lot of the criticisms he throws at Patrick are criticisms that gay writers laid into the show. Do you think that was intentional?
RC: I don't know about intentional. I can't speak to what the writers were doing. But I think, if anything, they were giving Patrick a run for his money. It was great to see someone finally challenge Patrick. It was great to see it in Richie's partner.
I will say, what was exciting about watching the movie in San Francisco at the Frameline Film Festival with a full audience was listening to people respond to those conversations. They're conversations that, within the LGBT community, are occurring constantly. Or certainly, people are always thinking about those things. So when those conversations were happening in the movie, the audience responding as vocally as they did was really exciting. It was a confirmation for Michael Lannan and Andrew Haigh — or, at least, I hope it was for them — that they were voicing some of the concerns within the community, plus their own unique feelings as storytellers. It's great when the material on-screen is reflecting conversations in the world. I hope we can create some kind of space for those conversations to happen.
Is there any scene of the Looking movie that sticks out for you?
RC: In the movie, I'm actually really excited about a character who's new in the movie. It's a character played by Michael Rosen [named Jimmy], who Patrick goes home with. I was so excited about those when I read the script. To me, it was emblematic of how much more material we had to mine as a show. I think we could have kept on going for six more seasons.
Generationally, the differences between those two characters — it's exciting, just as an audience member. Forget the actor side of me; when I was reading it as an audience member, what I learned about these two guys and the differences between them, and the hangups that Patrick has and this character doesn't have. There was room for new blood, which says so much to me.
It's interesting you bring up that scene, because my favorite scene is with Patrick and Tyne Daly. I love how the movie turned out to be made up of small, two-person stories.
RC: Tyne was so great. To have her presence in the film was really incredible. She got a huge, vocal reception at the screening in San Francisco.
So what's next for you? You mentioned Easy, coming to Netflix this fall.
RC: Yes! And I'm shooting this film, an adaptation of the novel We the Animals, which is a beautiful short novel by a guy named Justin Torres. It got a lot of critical acclaim when it came out, and I was lucky to get cast. I'm over the moon about that project.
If you had the chance, would you work with the Looking team again?
RC: Absolutely. Doing a series is one thing. There's a lot of pressures that go into that, like getting picked up for another season. But doing a film, there's an effortlessness and a lack of pressure. We weren't worried about getting picked up again. There was something easy about the whole experience. It was a complete dream. I would love to work with them again. I have such a genuine bond with them. It's not easy to find this kind of chemistry. It never felt like a job; it felt like we were a part of something really special.
Read more: