Tinder's New Social Feature for Group Dates Is Also Perfect for Outing Cheaters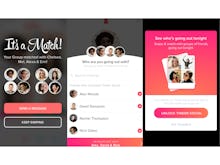 Tinder launched a new group feature, Tinder Social, on Thursday in a half-dozen countries — including the United States, the United Kingdom, Canada and India. It will allow users to coordinate group events with Facebook friends, then swipe around for groups of strangers to meet up with, BuzzFeed reported.
But some Tinder users are already worried the app may be getting, well, a little too social, primarily because it lets all of your Facebook friends know you're using Tinder — regardless of whether you're single or not.
When Tinder debuted the beta version of the group feature in Australia, users were upset that their Tinder profiles were automatically visible to their Facebook friends. According to complaints by users on Reddit, the uncomfortable information swap went both ways: Their Tinder profiles also suddenly displayed their work and school information from Facebook, one redditor wrote.
In response, Tinder advised users who wanted to swipe with more privacy to opt out of Tinder Social groups altogether, which can be done in a user's settings, Vice reported at the time. The new version of Tinder Social that launched today prompts users to unlock Tinder Social to opt in, which then allows your friends to see that you are on Tinder. Users can toggle it on and off at any time, according to a press release sent to Mic.
For some users who opt into Tinder Social, however, it may prompt questions from peers and significant others about how their Tinder dates really end up.
Tinder has long shrugged off its reputation as a hook-up app, and in a press release emailed to Mic, Tinder said its new group feature helped users organize pub crawls and concert outings, emphasizing its potential to help users "get out into the world and meet new people." 
But it's unclear if that's what people will think if they see their significant other has been using the app's new feature — especially in light of the fact that people already assume it's an app for finding orgies.
Read more:
July 21, 2016, 2:50 p.m.: This article has been updated.