Donald Trump Shares Ominous Thoughts on NATO, Breaking International Relationships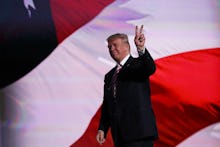 In an interview with the New York Times published Thursday, Donald Trump lent credence to one of two theories: That he's prepared to torpedo the country's international relationships, or that he doesn't know how NATO works.
The Republican nominee said that he would decide whether or not to support the Baltic states, which belong to NATO, from Russian aggression on a case-by-case basis, provided they have "fulfilled their obligation to us."
NATO's response? In short, nah.
"Solidarity among allies is a key value for NATO," organization secretary general Jens Stoltenberg told BuzzFeed News. "This is good for European security and good for U.S. security. We defend one another."
The United States was among the 12 countries that founded NATO — the North Atlantic Treaty Organization — in 1949 to safeguard a weakened Europe against threat of attack by the Soviet Union. Today, its 28 member-countries can rely on political and military support from one another. Obligation fulfillment is essentially baked into the alliance — collective defense being among the organization's founding principles.  
As a result of Russia's military intervention in Ukraine, NATO suspended relations between the two nations. Putin has also been eying the Baltic states, thus the worry over a potential invasion by Russia — the U.S. would be obligated to help the Baltic states if Russia encroached on their borders. Unless, of course, Trump became president: Putin and Trump have warm and fuzzy feelings for one another and would "get along very well," as Trump himself has said. 
The nominee has made no secret of his disregard for NATO, having asserted that some member countries were "not paying their fair share," according to the New York Times. 
That means we are protecting them, giving them military protection and other things, and they're ripping off the United States. And you know what we do? Nothing. Either they have to pay up for past deficiencies or they have to get out.
Naturally, the Trump campaign has dismissed Thursday's Times interview as a misquote. 
A full transcript is available here. 
Read more: