Hillary Clinton's "Trump Yourself" App Allows You to Be Insulted By Donald Trump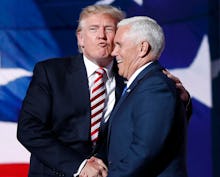 If you want to be among the class of people who have been called a "hater" or "loser" by Republican presidential nominee Donald Trump, then Hillary Clinton's got you covered.
The presumptive Democratic nominee launched a Facebook app called Trump Yourself that will overlay a variety of the insults Trump has hurled at his personal and political foes over your profile picture.
Some of the insults available to overlay over your profile picture include...
..."fat pig," which was Trump's descriptor of comedian Rosie O'Donnell.
..."major loser," which Trump has called many of his personal and political foes.
...and "goofy," which is Trump's insult toward Sen. Elizabeth Warren, who he's been feuding with on the campaign trail.
The app is Clinton's latest outreach to millennials — who backed Sen. Bernie Sanders in the primary in historic numbers and who still view Clinton unfavorably, according to recent polling.
Clinton's campaign is focused on bringing those younger voters to her side, and believes Trump — who has dismal approval ratings from millennials — will help achieve that goal.
Read more: