Where Are Weed Edibles Legal in the U.S.? This Map Shows You Pot Laws by State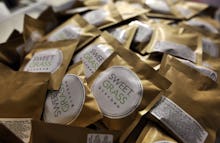 Gone are the days of slaving away in the kitchen baking homemade pot brownies for the purpose of chilling out without lighting up. 
Modern cannabis fans don't need to DIY — they can now buy a plethora of THC-infused treats, including coffee, candies, chocolates and other savory edibles. Edibles are THC-infused treats that give a consumer the benefits of THC, the active ingredient in marijuana, without having to smoke or use a vaporizer. The edibles market has exploded in popularity in states where marijuana use is permitted, the New York Times reported. 
Where are pot edibles regulated? Some states like Washington and Colorado regulate edibles and concentrates, Paul Armentano, Deputy Director of Norml, said in an email. But it's tough to make generalizations about the rest of the country. 
"Basically, every state is doing it differently," Taylor West, the deputy director of the National Cannabis Industry Association, said over the phone. States where adult recreational use is legal  — Alaska, Colorado, Oregon and Washington — have diverse laws on edibles. The information below comes from the National Cannabis Industry State-by-State Marijuana Policies Map. 
Alaska: There are no registered dispensaries yet; the state is currently issuing licenses. 
Colorado: There are 529 medical dispensaries and 435 recreational ones. The Colorado Department of Revenue and the Marijuana Enforcement Division regulate marijuana use in the state. 
Oregon: There are 414 medical dispensaries and no recreational ones quite yet. Recreational dispensaries will not be given licenses until Fall 2016, and there are 127 completed applications as of July. 
Washington: There are 260 dispensaries that reported sales. Patients with a medical marijuana license may purchase up to three times the legal limit of weed from any dispensary that has access to the state database of medical license holders. 
Just beware: The body takes longer to digest the THC in edibles, so it's easy to wolf down on a delicious brownie without feeling a thing and later get hit with a high. (It's a rookie mistake even Maureen Dowd, an acclaimed New York Times columnist, has made.) 
"Edibles take longer to kick in than smoking or vaping," Michael Zaytsev, author of the Entrepreneur's Guide to Cannabis, said in an email. "When you eat edibles, the psychoactive elements of the plant are absorbed through the liver rather than into the bloodstream." 
"When you eat edibles, the psychoactive elements of the plant are absorbed through the liver rather than into the bloodstream." 
Plus, Zaytsev noted, "dosing" edibles, or measuring how much of an edible a consumer can safely ingest at once, has been a problem for the industry. "There is no uniform understanding of what one dose is," he said, noting that each person may be able to handle a different amount of cannabis, which makes it hard for businesses to "dose" edibles and label appropriately. 
But states that currently legalize medical marijuana (25 states plus Washington, D.C., as of July 2016) may want to consider legalizing and regulating edibles, too. West noted that the longer high associated with edibles makes it a good choice for those who rely on THC to treat chronic health conditions. People who use marijuana for health reasons sometimes want or need to medicate at fairly consistent levels throughout the day, West explained. And edibles provide "a consistent and long-lasting effect," she said. 
Legislators are trying to act fast to make edibles as safe as possible. As Mic previously reported, Colorado lawmakers have banned weed-laced gummies, which were tempting for young children. First We Feast pointed out that Oregon also regulates dosing. 
Check out this map from the data analysts at HealthGroove that visualizes the marijuana laws in each state. Just note: These is not an exhaustive list, and there may be exceptions.
Here Are the Places You Can Buy Marijuana Edibles
Read more: