Starbucks Just Opened a Store That's Staffed By Deaf Baristas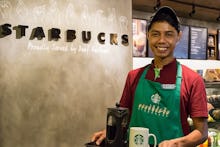 Starbucks's latest move doesn't involve a rainbow or a new iteration of a sugar-packed "coffee" drink. 
The chain announced on Tuesday that it launched a store location dedicated to staffing deaf baristas. The store, according to the press release, is located in Kuala Lumpur, Malaysia. The store itself looks pretty similar to other Starbucks, but also displays the brand's name in sign language. 
The coffee giant opened the outpost in collaboration with a non-profit called The Society of Interpreters for the Deaf, and the store has already hired 10 deaf baristas who will work alongside three hearing people. 
The employees were trained in standard Starbucks fashion with two sign-language interpreters on-hand to translate. The interpreters will also teach the other employees sign language to help them better communicate, the press release stated.
Customers who don't know sign language can place a written order. They can then double-check if it was entered correctly into the point-of-sale system. Once the order is placed, each customer is assigned a number which is pops up on a big screen above the counter when it's ready. 
Sydney Quays, the managing director of Starbucks Malaysia, stated in the press release the the chain wants to raise awareness and creating a fulfilling workplace for people with disabilities. "We have a rich history of creating opportunities for underrepresented groups and our aim is to raise public awareness of the value people with disabilities bring to the workplace and to enrich the lives of many more Deaf partners."
Beyond raising awareness, the system might help solve one of the biggest problems plaguing the brand's baristas: Correctly spelling and saying names on orders. 
While it's commendable that Starbucks has opened a location that employs deaf people, the move leaves us wanting more. Why hasn't the chain adapted all locations to be supportive of employees with disabilities? Mic has reached out to Starbucks for a comment. 
Read more: