'Narcos' Season 2: Netflix Series Shows Pablo Escobar on the Run In New Trailer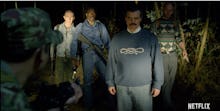 Viewers spent an entire season of Narcos with police and drug enforcement trying to pin increasingly heinous crimes on infamous drug kingpin Pablo Escobar. Season two is all about the manhunt to bring him to justice. 
Thursday, Netflix released the first trailer for season two of its acclaimed crime series, featuring Golden Globe nominee Wagner Moura once again playing Escobar. He narrowly escapes the clutches of the DEA and police in the trailer. But the clip suggests that part of that escape is akin to how Escobar's gotten away with so many of his other crimes: having people on the inside aiding his cause. 
While anyone can learn the eventual fate of Escobar with a quick Google search, it's nonetheless poised to be a captivating sequence played out on-screen. Really, the bigger question is how much longer Narcos will continue as a series. Its original showrunners have left, and the Escobar storyline will eventually have to wrap up. Perhaps the show's future will become evident this season.
Narcos returns to Netflix on Sept. 2. Watch the trailer for season two below.
Read more: