Gucci Mane and Kanye West's "Pussy Print" Leaks Ahead of 'Everybody Looking' Release Date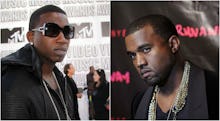 Only one day before Gucci Mane's highly anticipated post-prison release, Everybody Looking, one of the album's most high-profile collaborations — "Pussy Print," featuring Kanye West — has leaked online.
Despite the track's salacious name and contributions from the master of social media disaster, Kanye West, it's a highly subdued number. But Gucci doesn't seem to be looking for flash; he insists in the first verse that he only featured Kanye on the track, "because we both some fucking narcissists." Both rappers sound very in-control, spitting multi-syllable rhymes across the loping instrumental. Listen via Hypetrack here.
The song is the sixth single fans have heard off of Gucci's Everybody Looking, which is a little less than half of the album. It's also the second collaboration with Kanye West the rapper has shared since his release from prison in late May. Gucci appeared as one of the guest artists on Kanye West's "Champions," the lead single off his upcoming G.O.O.D. Music collaborative album Cruel Winter. 
They're some of the strongest songs Gucci has cut in several years — years that have been marred by incarceration and addiction. 
"It's been tough to be a Gucci fan," Gucci admitted to the New York Times in his first interview since getting released from his most recent stint in prison. "It's been tough to be a Gucci friend, a Gucci sibling, a Gucci girlfriend or a Gucci partner. I done took people through a lot, man."
Everybody's Looking will mark a new beginning for the artist. The album drops Friday, July 22.
Read more: