Russian Doping Ban Controversy: 68 Russian Athletes Barred from 2016 Olympics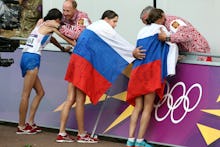 On Thursday morning, the Court of Arbitration for Sport upheld the ban of 68 Russian athletes from next month's Olympics in Rio after a November report from the World Anti Doping Agency found that the country had conducted a state-sponsored doping program during the 2012 London Olympics.
According to the Guardian, the International Association of Athletics Foundation celebrated the court's decision to throw out an appeal on the ban from the Russian Olympic Committee, saying it "created a level playing field for athletes."
The decision vacated Russia's track and field Olympic athletes, with only two cleared so far to compete as "neutrals." The CAS has paved the way for other Russian athletes to follow suit, only requiring that they get repeatedly tested in other countries, reported the BBC.
But while the court may be giving Russian track and field athletes a second chance to prove they can play fair, other officials are calling for a total ban of the country from the Olympic games.
The Guardian obtained a letter International Olympic Committee president Thomas Bach received Wednesday night from "more than a dozen" global anti-doping agencies calling for the dismissal of Russian athletes from all Olympic divisions. 
The letter said allowing any and all eligible Russian athletes to compete is the best way to strike "a fair balance between [the committee's] stated concerns between collective responsibility and individual justice so that no truly clean Russian athlete is barred from the Rio Olympic Games."
No matter what happens at Rio, IAAF president Sebastian Coe said the foundation's goal is to get Russian athletes back on the right track.
He told the Guardian, "Beyond Rio the IAAF taskforce will continue to work with Russia to establish a clean safe environment for its athletes so that its federation and team can return to international recognition and competition."
Read more: