New Gorilla Glass 5 Can Survive Bigger Drops, So Bye-Bye, Broken iPhone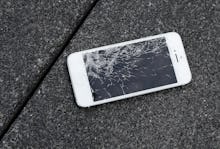 iPhone loyalists have been shouting SOS (save our screens!) to Apple for years — and Corning, the company behind Gorilla Glass, seems to have come through in a big way.
Corning just announced Gorilla Glass 5 — a mobile display glass cover that is allegedly able to survive drops onto "rough, unforgiving surfaces" with up to an 80% success rate from 5.2 feet, 9to5Mac reported. Rumors suggest the iPhone 7 — which will likely be released in the fall — could come equipped with the latest iteration of Gorilla Glass. 
Corning also noted its Gorilla Glass 5 will be commercially available in products "from leading global brands" (cough, Apple, cough) "later this year." A more shatterproof glass might also be a necessity if Apple does end up bringing the speculated all-glass iPhone to life.
Not only is this good news for consumers with a knack for sending their beloved iPhones falling to shattered futures (a study in 2013 found that 23% of iPhone screens are cracked), it's good news for Apple. Most people don't want a new iPhone if it's not redesigned — and with rumors pointing to a "modest upgrade" in the iPhone 7, a nearly indestructible display could help sway the underwhelmed.
Although, it could cost Apple a pretty penny if far fewer consumers need screen replacements. Americans spent over $23.5 billion replacing broken smartphones from 2007 through late 2014. 
Read more: