Macy Gray Remixes Her 15-Year-Old Breakout Single "I Try" As a Stunning Jazz Standard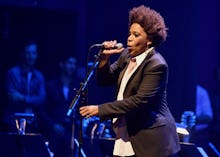 Macy Gray's sultry, raspy croon is a totally unique instrument unto itself. Even 15 years after most first heard it on her iconic single "I Try," there's still no voice quite like it. 
Thursday, the singer returned to remind the world just how special her talents are, debuting a reimagined version of her first major hit as a stripped down jazz standard. It sounds as magical as the heart-wrenching original, but with slightly rawer, more candid feel.
The new rendition of "I Try," currently streaming on SoundCloud, is the first taste of Gray's new jazz album Stripped coming in September. "I Try" and the rest of Stripped were recorded outside of the confines of a typical studio environment. Gray and her band "bunkered up in an abandoned church in Brooklyn and just started laying down some of my favorite songs from over the years," she told Elle. The whole album was recorded in two days, with no overdubs, according to a press release.
The album will consist of some of Gray's greatest hits (like "I Try"), some new songs, and two covers: Bob Marley's "Redemption Song" and Metallica's "Nothing Else Matters." Stripped "was such a completely unexpected but refreshing and fun thing to do," Gray said. 
Listen to Gray's new remix over at Elle, and check out Stripped's track list below.
1. Annabelle
Read more: