Chloë Grace Moretz Will Speak at the DNC — And People Aren't Happy About It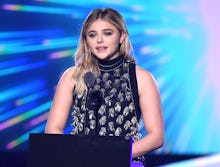 Before the Republican National Convention has even come to a close, word of which celebrities and public figures have made it to the Democratic National Convention's spread throughout the web, for but a moment outshining the RNC's many dramatic moments.
Though the DNC announced its headlining speakers last week, on Wednesday actress Chloë Grace Moretz broke news on Twitter and Instagram that she would join the roster. Other celebrity speakers will include actresses Lena Dunham, Debra Messing, Eva Longoria and America Ferrera, as well as singer Demi Lovato.  
Slate writer Heather Schwedel called the cohort "odd," but upon closer examination, found that the political track records of Messing and Longoria, for example, checked out. The one she couldn't truly make sense of though, was 19-year-old Moretz.
"There's nothing wrong with her exactly, other than the vague air of desperation that encircles her," wrote Schwedel. Twitter users tended to agree — but turned it up a notch, especially after Moretz entangled herself in the Kim-Kanye-Taylor feud.
Moretz publicly declared her support for Clinton in February, telling People that some young women have told her they're hesitant to vote for the candidate for fear of being called a "strict feminist."
"They're afraid that men might look at them differently as a counterpart," Moretz said at the time.
Moretz and the other young female celebrities speaking at the convention, which begins on Sunday, will likely zero-in on this concern in their addresses. 
"Don't be afraid to vote for Hillary just because she's a woman," Moretz told People. "Vote for Hillary for the things that she stands for. Vote for Hillary for what she backs and what she supports." 
Read more: