Tim Kaine Is Hillary Clinton's VP Running Mate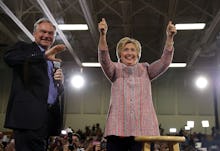 Hillary Clinton announced on Friday that Virginia Sen. Tim Kaine will be her vice presidential running mate, solidifying the Democratic presidential ticket just days before the party meets in Philadelphia for their nominating convention.
As a Senator, former governor and one-time chair of the Democratic National Committee, Kaine, 58, brings political, foreign and domestic policy chops to the Democratic ticket — which will face off in November with Republican nominee Donald Trump and vice presidential nominee Mike Pence.
While not Latino himself, Kaine is a fluent Spanish speaker. And he comes from Virginia, a swing state that if Clinton wins would almost certainly put the White House out of reach for Trump, who has a narrow path to the 270 Electoral College votes needed to win the presidency.
Kaine was selected from a pool of more than a half-dozen contenders that included progressive Sens. Elizabeth Warren, Cory Booker and Sherrod Brown; Housing and Urban Development Secretary Julián Castro and Agriculture Secretary Tom Vilsack.
He ultimately won out after reportedly becoming a favorite of former President Bill Clinton, who felt Kaine's resume made him the best prepared for the VP role, the New York Times reported.
Clinton and Kaine are set to make their first joint appearance Saturday in South Florida — a crucial area of an important swing state that could determine who wins the White House in November.
After that, Clinton and Kaine will be off to Philadelphia for the Democratic National Convention, which begins Monday and ends Thursday.
Read more: