WNBA Players Fined for Wearing Shirts in Solidarity With Alton Sterling, Philando Castile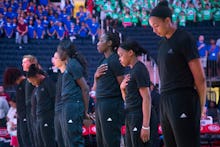 Several WNBA teams and their players reportedly have been fined for wearing black warm-up shirts in solidarity with the victims of recent police shootings, such as Philando Castile and Alton Sterling. 
Indiana Fever, New York Liberty and Phoenix Mercury were all fined $5,000, while each player involved was fined $500, according to the Associated Press. The report said the players' shirts, despite displaying the league's official Adidas brand, violated the WNBA's uniform policy. 
"We are proud of WNBA players' engagement and passionate advocacy for nonviolent solutions to difficult social issues but expect them to comply with the league's uniform guidelines," WNBA president Lisa Borders told the AP in a statement Wednesday night.
After Thursday's game between the New York Liberty and the Indiana Fever, WNBA guard Tanisha Wright told reporters that the players "want to be able to use our platforms."
"We want to be able to use our voices. We don't want to let anybody silence us and what we want to talk about." Wright said, according to The Huffington Post. "It's unfortunate that the WNBA has fined us and not supported its players."
Some WNBA players have spoken out about the fine.
"Don't say we have a voice and then fine us because we use it," Phoenix Mercury forward Mistie Bass tweeted.
Alysha Clark, forward for the Seattle Storm, also vented her frustrations with the decision on Twitter.
"I understand uniform policy and all, but how can you support one incident that affects the community in and in support of our league but not support the other?" Clark wrote in two tweets. "Shirts were in our lockers right after the Orlando incident. Is it because Black Lives Matter is uncomfortable for you?"
"Instead of the league taking a stance with us, where they tell us they appreciate our expressing our concerns like they did for Orlando, we're fighting against each other," Indiana Fever forward Tamika Catchings said, the AP reported.
Earlier this month, four police officers left their posts during a Minnesota Lynx WNBA game where the players were wearing shirts that said, "Change starts with us; justice and accountability." The back of the shirts highlighted Castile's and Sterling's names and the words "Black Lives Matter" with a Dallas Police Department emblem.
Other major sports leagues, like the NBA, have not fined their players for making statements about black lives.
July 22, 2016, 1:43 p.m.: This story has been updated.
Read more: