What Does DJ Khaled Actually Do — Other Than Be Rich on Snapchat?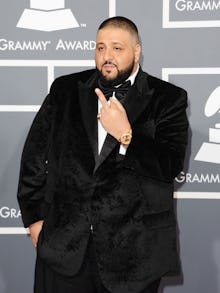 He has the strongest Snapchat game in the world. He spends his days doling out godly wisdom about hygiene to the youth in the form of "major keys." He gives exhaustive "cloth talks" about how to win consistently and repeatedly. He sometimes kind of makes music?
DJ Khaled constantly boasts that he is the premium architect of the summer blockbuster anthem. And yet the man has never had a No. 1 hit, nor a single that's landed in the top 5. His last album didn't manage to crack the top 10 on the Billboard 200. Khaled doesn't really produce, he doesn't really rap, and yet he's constantly hailed as the king of a new kind of pop culture renaissance. He couldn't fill his records with some of the biggest names in music unless he had some kind of talent, though, or was at least doing something right.
To start, let's go back to the moment that arguably launched him to the upper echelons of musical celebrity: When he recorded his experience getting lost at sea on a Jet Ski in real time on Snapchat. The videos captured his zany optimism in perfect portrait and made waves across the internet. It secured the artist's ever-growing dominance and influence on the rising social platform. It led to appearances on Ellen and a profile in the New York Times, explaining how his Snapchat skills elevated him from "carnival barker to transcendent public figure."
"Carnival barker" is pretty much what Khaled seemed like before debuting his cloth talks. Khaled has rarely produced or written his own material, but he does shout his name and tag lines loudly over top of songs he's "authored." He can best be viewed as a musical curator, or the world's most flamboyant A&R.
"I'm coaching," Khaled told Complex about his experiences in the studio with multiple artists. "... I put together amazing records, whether that's finding the beat or putting the right hook on there, and picking the right artists on the record. That's me being an A&R. And I'm making sure that they give me their best. A Khaled record is always the best."
He's gone through this process to drop some pretty good singles with stars like Rick Ross, Drake and Jay Z. In February, Jay signed Khaled to Roc Nation, a label that hosts Rihanna, Big Sean, DJ Mustard, Shakira and so on. He's been seeing himself as operating on that level since at least 2012. In that same Complex piece, when his interviewer asked him to clarify his part-coach, part-producer role, he responded: "That's like saying, 'What does Puff Daddy or Jay-Z do?' I make hits. I find hits. And I put hits out. That's what I do."
That's presumably what his new album, entitled Major Key, will contain. He does have a ton of notable artists to help make that happen, as he's made sure we know that.
"I want to clarify and make sure everybody knows that I have two verses from Jay Z on this record with me and Future," Khaled told Entertainment Weekly about his forthcoming project. "Amongst other artists, me and Kanye, we talking right now about making something special. Me and Ross. Ross is definitely on the album. Lil Wayne, Big Sean, Chris Brown, August Alsina, Travis Scott — the list goes on. I'm giving you some gems early just so you all know I'm super serious. There's a lot more hidden gems."
Khaled's unprecedented rise to prominence in hip-hop without having to get his hands too dirty in the booth seems to shed light on a new way of succeeding the music business. By having an on-point social media personality, matched with A-list celebrity friends who don't mind collaborating, all the while promoting themselves, it seems a lot of people could enjoy the same success Khaled has seen in his ever-exploding career. All it takes is a little bit of luck, a bit of taste and a strong selfie arm.
Read more: