Samira Wiley Talks 'Orange Is the New Black,' Her New Film 'Nerve' and 'You're the Worst'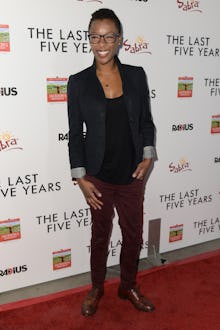 Samira Wiley understands why fans were so upset with the tragic events that unfolded at Litchfield Prison in the final two episodes of Orange Is the New Black's fourth season. 
(Editor's note: Spoilers for Orange Is the New Black's fourth season ahead.)  
Wiley's character on the Netflix series, Poussey Washington, was killed during a peaceful protest by Litchfield's inmates. Her death came at the hands of a prison guard pinning her to the ground and obstructing her breathing. It's tragic for obvious reasons: She's a fan favorite on the show, and a character viewers could see establishing herself in the outside world once her prison sentence was over. For what it's worth, she even got the endorsement of the season's Martha Stewart/Paula Deen hybrid, Judy King, to get a job after she got out. 
However, this is also why Poussey was chosen for the storyline, as her death had direct, symbolic nods to several high-profile police killings that sparked and continue to fuel the Black Lives Matter movement. It needed to hurt. In turn, Wiley wants those troubled by Poussey's death to be concerned with what's going on in the real world — to look at the recent shootings of Alton Sterling, Philando Castile and Charles Kinsey as examples of a systemic societal issue that's not changing. 
Meanwhile, Wiley's acting career moves on, starting with a role as a hacker in the tech-thriller Nerve, opening Wednesday. The film's premise is unsettling: an online game of objective-focused truth or dare takes over New York City, with the dares becoming increasingly deadly.
In an interview with Mic, Wiley discussed the realism of the video game featured in Nerve, how season four of Orange Is the New Black relates to Black Lives Matter and her forthcoming role on the FX's romantic comedy series You're the Worst. 
Mic: Your character in Nerve, Azhar, is part of a group that knows how to hack, as well as access the dark web. What are her ambitions for doing so?
Samira Wiley: I think her being able to tackle down the entire game of Nerve has probably raised her ambitions more than she's ever had them before. It's a big accomplishment, it's something that I don't think she knew she had in the bag, regardless of her swagger. I'm pretty positive that at the end of the movie, she probably feels like she can do anything.
Since it's such a vital part of each character's identity in Nerve — would you consider yourself a watcher or a player?
SW: I'd definitely see myself more as a watcher. I want to be able to go ahead and dictate what other people are going to do and not have to sit around and wait till someone tells me what to do, you know? It sounds really passive, a watcher, but actually is a really active part of the game.
Your character seems to have found an online community in Nerve, even if the space she operates in is physical. Do you think that idea of having an online community resonates in real life as well?
SW: I think it really just all depends on the kind of person it is, you know what I mean? Because I do think that it appeals in the real world, I just think you got to find the people that it appeals to. There are lots of — I would like to think — hacker queens all over.
If a game like Nerve actually existed, do you think it would take off in popularity?
SW: I actually really do. I really do think so. It sounds like something people would all be into and that it would get a little dangerous. Nothing about it seems too far-fetched to me.
I would be remiss not to talk about Orange Is the New Black season four, and Poussey's heartbreaking death on the show. How did you feel when they first broke the news to you?
SW: In the beginning I was shocked, confused. There was a lot of people who assumed I asked to leave the show, which is the furthest thing from the truth. It was news to me and I think it really took having to have conversations about the story that they were trying to tell, [the] Black Lives Matter story and realizing that this character that I created could be the vessel for that story.
I went from being shocked and confused to really being honored and challenged by the task put in front of me.
It feels like Poussey being chosen is also because in Litchfield she's one of the more positive characters. She's so upbeat, so it feels like it's all the more effective because it's someone the audience truly cares about.
SW: That's the exact reason why. I've had conversations with [series creator Jenji Kohan] about why Poussey. One thing she says is that she's one character that you can really see her future. You want to do this to someone who you feel like has a future so it can hurt that much more. 'Cause it really hurts.
It's also all the more relevant after the recent incidents of police brutality. It's always going to matter, but it feels all the more impactful given what's been happening lately in the news.
SW: It was something that we definitely did to echo things that have happened in the past with Eric Garner, Michael Brown. To have new names since we filmed that thing, Alton Sterling and the recent deaths, it's unfathomable to think that we would still have new names that we need to remember. People are really upset about Poussey. But I want people to be really upset about what's happening in the real world.
I noticed that you tweeted about the Alton Sterling shooting. What are some of the other ways that people can directly show support for these kinds of issues?
SW: Continuing to have a conversation. Continuing to literally just have their names in your mouths is honoring them and honoring their lives and making sure that they didn't die in vain; to make sure that we are talking about these men; we are talking about the crimes that led to their demise; we are talking about all the things that trouble us. To know we have power right now in an election season, you know what I mean? To realize where we have the power. 
If you feel powerless, know that at the end of the day you can vote. Little teeny things like that that help us feel like we have some control.
Going back to the end of the season, the last thing we see in Litchfield is Daya Diaz with a gun in her hands, aiming it at one of the guards, Humphrey. Despite that, the season actually ends with a flashback to Poussey in New York City, as she breaks the fourth wall and smiles at the camera. What did you take away from that being the last thing the viewers see?
SW: I remember being on set for that and we were almost finished filming the whole thing and I'm looking off and someone runs in and they're like, "Hey, Jenji said look at the camera." And I was like, "She said what?" And they're like, "Look straight into the camera!" I was like, "There's no way she said that!" But lo and behold, of course she did say that and we get this amazing moment that has really been impacting people. 
It was something — we've never done that on Orange before — so it was weird to do it. But it also, in seeing some of the clips from it, it's powerful. I never knew that it would be powerful, I thought it was going to be so cheesy — me looking at the camera. But, like you said, to end on that rather than end on Daya's gun and Humphrey's face is leaving us with an ounce of hope.
Looking ahead, you've got a new role as a therapist on FX's comedy series, You're the Worst. What excites you about this new role as you move on from Poussey?
SW: One of the main things is just being able to step off a set that you've been apart of for however many long years and go on to this. It was just like, I know that set, you know? I know that guy's name, I know this girl's name, I know where they keep the Cheetos. (laughs) I know all those things. 
But on the set for You're the Worst, everything's really new. The scripts are new. It's a half-hour, not an hour. It's a comedy, not a drama. It's this, it's that. But I'm finding my way there and all of the cast is so warm and welcoming and it's fun — but it is new and it's hard.
This interview has been edited and condensed for clarity.
Read more: