If 'Pokémon Go' Freezes While Catching a Pokémon, Here's How to Make Sure You Keep It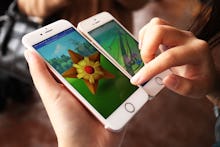 The Pokémon Go craze has officially gone viral — and everyone is talking about it, from Hillary Clinton to Planned Parenthood to Donald Trump. Naturally, because of the game's widespread popularity, players have discovered more than a few glitches and bugs. But, because millions of people are playing Pokémon Go, there's also a hack that's been discovered for every problem you may encounter.
If your game freezes while you're in the middle of catching a wild Pokémon, you run the risk of losing the catch completely. But Poké-fans have figured out a handy hack to make sure you can still keep your catch. According to a Pokémon Go fan Twitter account, if your game freezes while you're in the middle of catching a Pokémon, you should "close the app completely," then switch your phone onto airplane mode. Then restart the app. 
When the title screen says "No Internet Connectivity," go back into settings and switch airplane mode off. When you go back into your game, the Pokémon you were catching when the app froze should be in your Poké bag (hopefully).
Happy hunting, trainers — and remember, don't Pokémon Go and drive.
Read More: