Desiigner Finally Releases "Timmy Turner" After Weeks of Teasing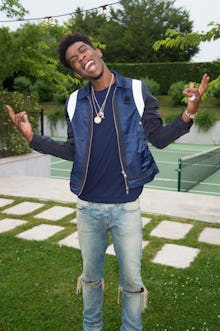 When Desiigner, the young Brooklyn talent behind the smash hit "Panda," got named as part of XXL's 2016 freshman class, the choice caused some eye rolls across the hip-hop community. A few days later though, when he dropped his atypical freestyle — a haunting a cappella verse riffing on Fairly Odd Parents star Timmy Turner and his endless wishing — some of those doubter's ears perked up. 
Maybe Desiigner has a future in hip-hop and a surprise or two to share before he goes the way of the Trinidad James, the new refrain went. After weeks of teasing, Desiigner has finally turned his "Timmy Turner" riff into a full song. It's a certified — if simple — banger.
The final version is a little one note. The same refrain repeats over several different melodic lines and beats, one of which being the piano riff the rapper shared Wednesday.
But the flow still works. It's mystifying as it was when the world first heard it, and it's better than anything on his most recent mixtape New English, if nothing else. 
Expect to hear the song creeping out of radios alongside his still top 10 "Panda" soon.
Read more: