Robert Mugabe Loyalists Defect in Zimbabwe as the #ThisFlag Campaign Gains Steam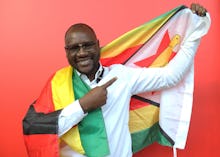 The Zimbabwe National Liberation War Veterans Association, a crucial group of defenders for Zimbabwean President Robert Mugabe, has defected from the 92-year-old leader, referring to him as "dictatorial," according to Associated Press. 
"Veterans of Zimbabwe's independence war made a significant break with President Robert Mugabe for the first time Thursday, calling him dictatorial, manipulative and egocentric," Bloomberg reports. 
The veterans' disavowal Mugabe, who has ruled the country for 36 years since its independence, is part of a larger discontent percolating throughout the country. 
The face of the opposition movement is Evan Mawarire, a 39-year-old pastor and political activist who was arrested and charged with plans to overthrow the president on July 12. Mawarire has since been released in the Zimbabwean capital, Harare.
He thanked his supporters with a video on YouTube after his release and immediately sought refuge in South Africa. 
Prior to his arrest, Mawarire initiated the successful #ThisFlag campaign on social media — an endeavor to symbolically reclaim the Zimbabwean flag.
Mawarire used the campaign to orchestrate a country-wide shutdown in the first week of July, in which both workers from both the civil service and the private sector stayed home. There have been a number of demonstrations, uncharacteristic of the otherwise militaristic and autocratic political climate. 
"The biggest goal that we have [is] to get citizens to be awake again, to move away from apathy, to be patriotic and to feel responsible for their country," Mawarire told Agence France-Presse from Johannesburg, South Africa, on Monday. 
"We have to get citizens to scale the wall of fear and to get [to] a place where they are not afraid to speak, not afraid to stand up and be open," he said. 
Mugabe has warned his country of Mawarire, saying he is a far cry from a "true preacher."
"Beware these men of cloth, not all of them are true preachers of the Bible," the president said Tuesday to supporters, according to BBC. He was speaking during the funeral of Charles Utete, the the first black cabinet secretary in Zimbabwe and an advisor to Mugabe, 
"I don't know whether they are serving God ... we spell God double G.O.D, they spell God in reverse," Mugabe argued. 
Read more: