Mila Kunis Said Exactly What All Moms Need to Hear About Breastfeeding In Public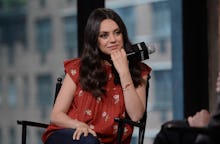 Mila Kunis isn't here for your breastfeeding shaming. On Tuesday, in an interview with Vanity Fair, the actress — who has one child with husband and former co-star Ashton Kutcher, and is currently expecting another — opened up about how it feels to be shamed for breastfeeding in front of strangers. 
"I support every woman's choice in what she wants to do and whatever makes them happy, but for me, I did nurse my child and I literally breastfed everywhere," Kunis said. "I just did it in a restaurant, in the subway, in the park, at airports, and in planes. Why did I do it in public? Because I had to feed my child. She's hungry. I need to feed her whether it's out of a bottle or out of my boob no matter where I was." 
However, she said the simple, mundane act of feeding her baby near other humans happened to be earned her some judgmental stares from strangers.
"It took us a little back because people actually looked at us in a shameful [way], and we were like, 'Oh my God,' because it's so not a sexual act. It didn't matter to me what other people thought ... I think it's unfortunate that people are so hard on women who choose to do it and do it in public. In the States and in our culture, we sexualize the breast so much that there's an aspect of it that people just don't know how to wrap their head around the idea of showing your breast in public."
The actress is no doubt onto something. Back in June, a woman trying to breastfeed her baby while she was shopping at a Connecticut Target was harassed by a stranger who called her "nasty" and a "whore."
But Kunis isn't the only celeb mom taking a stand for breastfeeding rights: Last month, model Tess Holliday snapped an awesome breastfeeding selfie in June and hashtagged it #NormalizeBreastfeeding and Chrissy Teigen opened up about her post-baby breasts after giving birth to daughter Luna.
Maybe anyone who still thinks breastfeeding is gross should try eating all their meals in complete privacy and see how that works out.
Read more: