13 Things to Do With Leftover Red and White Wine — Besides Drink It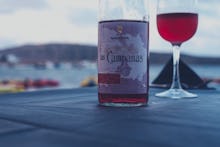 It's no feat to finish a bottle of wine. But when you crack open a couple of bottles (or boxes) when company's around, sometimes there are one or two wounded soldiers that don't get finished by the end of the night. Maybe your friends' eyes were bigger than their tolerances, no sweat. 
After you open wine, it goes bad pretty fast. Air causes wine to oxidize, meaning it loses its flavor. According to the site Wine Folly, light wine and rosé last for five to seven days when stored in the fridge and sealed with a cork. Full-bodied whites and reds last for three to five days in the fridge with a cork for the former and in a cool, dark place with a cork for the latter. 
After those time frames, the wines are no-gos for sipping. Luckily, there are plenty of creative ways to use up leftover reds and whites after you throw a party. Instead of pouring vino down the drain, try out these leftover wine ideas. You can cook with wine that's months past its prime, Bon Appétit noted. And you can use it to clean or sanitize things, too. 
How to Clean with Red Wine
• Trap fruit flies with a cup of red wine. Instructions here. 
• Rinse fruits and vegetables with wine to kill off harmful bacteria. 
How to Clean with White Wine: 
• Remove stains off countertops. The alcohol will kill any bacteria. 
• Get rid of grease in the kitchen or on your grill with a splash of white. 
• Clean red wine stains by immediately putting white wine on the stain. 
Thirsty for more options? Read on for how to use wine up during any meal of the day. 
How to Cook with Red Wine
Breakfast: Eggs Poached in Red Wine
Wake up with a hangover and extra wine that's hard to even glance up? Whip up these easy eggs to serve with a nice and crusty bread. The whole dish takes 20 minutes from start to finish, so you can fuel up and get on with your hangover day. 
Lunch: Vegetarian Baked Beans
Red wine deepens the flavors in this easy recipe for baked beans. And booyah — homemade beans have much less sodium than the canned kind you'd buy at the grocery store. Everyone at your next BBQ will applaud your skills. 
Dinner: Red Wine Spaghetti With Walnuts and Parsley
Putting red wine in pasta sauce is a tried and true way to boost flavor, but cooking pasta directly in wine is surprisingly delicious, and easy! Garnish with walnuts and parsley for an elegant dish. 
Dessert: Red Wine Velvet Cake
A touch of cinnamon complements the red wine in this indulgent treat. Smitten Kitchen cookbook author Deb Perelman notes that the vino doesn't completely bake out of the cake, so don't bake this for a toddler's birthday, or do, but reserve it for the adult's table. Top the cake with whipped mascarpone cheese and your taste buds will swim in creamy, chocolate deliciousness. 
How to Cook with White Wine 
Breakfast: Crepes with Wine-Poached Berries
Poaching berries sounds fancy, but it's actually quite easy. Follow this foolproof recipe for sweet crepes and sweet wine-infused berries. Greek yogurt mixed with mascarpone cheese balances the berries' sweetness. 
Lunch: Grilled Chicken Wine Marinade
You're five ingredients away from a finger-licking good chicken marinade. Orange and honey add a sweet flavor that gets balance from the wine's acidity. Winner, winner, chicken dinner! Pro tip: Grill up several breasts over the weekend and put the meat in salads during the workweek. 
Dinner: Shrimp Pasta With White Wine Sauce
This easy recipe comes together in a flash — boil water and in just 10 minutes you'll be chowing down on a creamy, carb-alicious entrée. Aromatic garlic, shallots, wine, and heavy cream create a sauce so scrumptious, you won't be able to put down your fork.  
Dessert: Apricot Sorbet 
Dairy averse? Check out this sweet treat that's got a unique flavor you probably won't find in your local grocery store freezer. Making the sorbet will be a little time-intensive — 2 hours of chilling, plus more freezer time for the sorbet to firm up — but the end result will be worth the wait. 
Read more: