RNC 2016 Day 4: Speakers, Start Time, How to Watch and More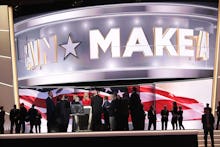 The 2016 Republican National Convention is heading into its fourth and final day in Cleveland, and all eyes are on the man of the hour, Donald Trump, who is expected to formally accept the Republican party's nomination with what may be his most high-profile speech to date. But Trump isn't the only big name who will take the stage at the Quicken Loans Arena Thursday evening. 
Here's what you need to know about day 4 of the RNC.
Start time:
Thursday's theme is "Make America One Again," according to the official RNC website, and the night's primetime program will begin at 7 p.m. Eastern.
Speakers:
Thursday night's primetime speakers include motivational speaker Brock Mealer, whose bio on the RNC website calls him a "walking miracle," and Jerry Falwell Jr., an "evangelical leader" and the president of Liberty University (a school that doesn't allow gay sex, tongue piercings or bikinis). 
Republican lawmakers and party leaders will also take the stage, including Tennessee Congresswoman Marsha Blackburn, Oklahoma Gov. Mary Fallin and Republican National Committee Chairman Reince Priebus. Dr. Lisa Shin, who owns an optometry practice in Los Alamos, New Mexico and is also Donald Trump supporter, will speak on Thursday.
Tech billionaire and Trump supporter Peter Thiel is also scheduled to speak on Thursday. Thiel is the man behind an infamous lawsuit against Gawker media and an out gay person — something that his RNC bio neglects to mention, but CNN reports will factor heavily into his remarks.
Donald Trump's daughter and business partner Ivanka Trump will speak as well; the RNC line-up online has her opening for her father, who will close out the night.
How to watch:
CBS News is livestreaming continuous convention coverage online, and the RNC's official YouTube channel also has a livestream.  ABC, CBS and NBC will all start their primetime coverage of the RNC at 10 p.m. Eastern.
Read more: