Megyn Kelly Wore a Top With Thin Straps at the RNC, And Oh Boy Were Viewers Butthurt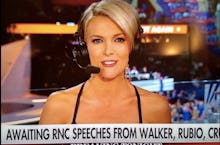 Megyn Kelly wore a top with thin straps while covering the third night of the Republican National Convention, and viewers lost their goddamn minds.
Although there were many more noteworthy things to focus on during the convention — that time nominee Donald Trump came thisclose to planting a kiss on running mate Mike Pence's forehead, or that other time Laura Ingraham seemed to throw up an inadvertent Nazi salute — once the world caught sight of Kelly's bare shoulders, the internet caught fire. 
It is moderately surprising that none of her Fox News colleagues marched over to hand her a sweater. 
It is also surprising that seemingly no one commented on the gratuitous size of the headset someone made her wear. It's hard to know when one doesn't watch Fox regularly, but it seems a lot larger than necessary. But apparently — headset: fine, not at all distracting or uncomfortable for her to wear; collarbone in the middle of this July heat dome: oh, hell no. 
Breitbart seemed to side with Twitter users who said she looked like an escort; like she'd just thrown on a bikini top and forgotten to put on the rest of her clothes; like she'd stopped at lingerie; like she was inviting the world to "do me." 
Perhaps the most egregious Twitter commentary came from those who linked her attire to her reported allegations of sexual harassment against (recently resigned) Fox chairman Roger Ailes. On Tuesday, she joined numerous female colleagues when she reportedly told investigators Ailes had indecently propositioned her around 10 years ago. Apparently according to internet trolls, Ailes' behavior must have had something to do with this dress she wore a decade later. 
But, at the end of the day, this is the RNC we're talking about, so the reaction is far from surprising. One Twitter user tidily summarized all this outrage: "@megynkelly Put clothes on at the convention. We're conservative."
You don't say.
Read more: