Netflix Study Finds That Users Spend Twice as Long Browsing for Shows as Cable Users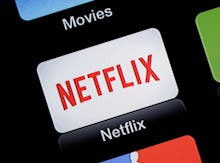 Isn't it particularly arduous to move on from binge-watching one Netflix series to the next? You aren't alone in the struggle to escape the show hole. 
According to a new study from Reelgood and Learndipity Data Insights, Netflix users are spending roughly twice as long browsing for content compared to cable users. Subscribers to the streaming service, on average, spend 17.8 minutes deciding on a show or movie — which is almost as long as rewatching an episode of The Office, except much less entertaining.
It's a persistent problem; apps and websites have been created to try and unravel the issue, ranging from the helpful (a website that weeds out Netflix's top-rated entries) to the unpredictable (a stressful game of Netflix roulette for your choices). 
Other findings from the study showed that Netflix users strongly identified with dramas and comedies more than cable users, and more Netflix users trusted the recommendation of a friend for a show rather than a professional critic. 
However, if the findings seem to implicate that cable watchers are winning out by spending less time browsing, the streaming service is not without its perks. Netflix continues to create compelling, Emmy-nominated original series, and in September will begin an exclusivity partnership with Disney that will make a plethora of Marvel, Star Wars and Pixar properties available to its users. 
Eventually, users will be spending that extra time choosing between The Avengers and Wall-E — a champagne problem to be sure.
Read more: