NBA 2017 All-Star Game Relocating Out of North Carolina to Protest Bathroom Bill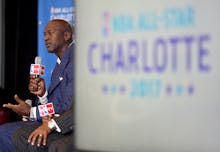 The 2017 NBA All-Star Game won't be held in North Carolina, as was originally planned, Yahoo's Adrian Wojnarowski first reported on Thursday. The league confirmed the move later that day in a statement denouncing the climate North Carolina's anti-trans HB2 law has created.
Passed in March, HB2 is colloquially referred to as the "bathroom bill," as one aspect of the bill forbids trans people from using the bathrooms that correspond to their gender identities.
"Since March, when North Carolina enacted HB2 and the issue of legal protections for the LGBT community in Charlotte became prominent, the NBA and the Charlotte Hornets have been working diligently to foster constructive dialogue and try to effect positive change," the league wrote in its statement. 
The statement noted that the All-Star weekend events are "intended to be a global celebration of basketball, our league and the values for which we stand," adding that while the league cannot dictate the laws of all the locations in which it conducts business, "we do not believe we can successfully host our All-Star festivities in Charlotte in the climate created by HB2."
Shortly after the league issued the statement, North Carolina Gov. Pat McCrory's office issued its own, calling HB2 "common sense bathroom and shower privacy for our children": 
The sports and entertainment elite, Attorney General Roy Cooper and the liberal media have for months misrepresented our laws and maligned the people of North Carolina simply because most people believe boys and girls should be able to use school bathrooms, locker rooms and showers without the opposite sex present.
NBA commissioner Adam Silver had said back in April that the league would move the 2017 NBA All-Star Game out of North Carolina if HB2 remained in place, the Charlotte Observer reported at the time. The NBA has not yet announced a replacement location, but New Orleans is reportedly being considered.
This is just one of a slew of monetary losses the state has endured thanks to the bill — a host of musical artists, including Bruce Springsteen, Ringo Starr, Ani DiFranco and Pearl Jam have canceled shows in protest, and several U.S. cities, including San Francisco, New York City, and Seattle, have banned "non-essential" travel to North Carolina because of the bill.
July 21, 6:30 p.m.: This story has been updated.
Read more: