Jay Z or Nas, Tupac or Biggie: Spotify Data Reveals Who Really Won Hip-Hop's Rivalries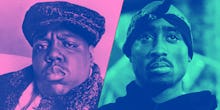 According to hip-hop's unwritten honor code, to sit on the throne, it's not enough to make hit records. A true MC has to do it in such a way that makes the rest of the competition look like hacks hustling for nickels and dimes. 
Rivalries give rap verses gravity to an extent no other genre knows. Of course, beef can be abused. Some rivalries are fleeting and piecemeal, engineered for publicity rather than them being products of rap's competitive spirit. It's up to fans and blogs to see through the facade and declare true winners out of a handful of singles and disses. One would like to think winners are rewarded with dedicated audiences, but that's not always the case.
Teaming up with Spotify, we've unpacked that question, sifting through the platform's databases to see which rappers have been able to turn lyrical victories into an actual audience. We've looked at the some of the most direct and savage rivalries of all time — like Tupac v. Biggie, Jay Z v. Nas — and some rivalries that are more friendly competition than beef, like Talib Kweli and Mos Def's vying for the conscious crown. Every percentage represents the share of combined total streams each artist has earned since Spotify's launch. Check out the breakdown:
Jay Z v. Nas
The music that came out of the Jay v. Nas beef gave the culture entirely new vocabulary to talk about rivalries. After Nas ran a lyrical clinic around Jay Z on "Ether," its song title became a verb. Every MC who mercilessly tears into another on a diss track now "ethers" them. Yet, Jay's "Takeover" line — "That's a one-hot-album-every-10-year average" — may have been more prophetic than he realized. 
Future v. Desiigner
Biting was one of the initial offenses that set Jay and Nas against one another back in the late '90s, and biting is at the heart of the current feud between Future and Desiigner. When the 19-year-old Desiigner first earned a major audience with his feature on Kanye West's "Father Part My Hands, Part 1," many actually mistook him for Future. The two have since gone back and forth, shading each other hard in performances and interviews. Future still holds the majority of Spotify listeners. Yet the fact that Desiigner has even been able to pull in 15% with basically one song and one mixtape ("Timmy Turner" had not dropped before Spotify pulled its data) is a sign he may give Future a run for his money yet.
Drake v. Meek Mill
Drake has had a lot of artists come for his throne as of late. Last year, it was Meek Mill, who called Drake out for ghostwriting in short but vehement tweetstorm, and proceeded to watch himself get torn apart with song after song from the Drizzy camp. Meek still hasn't recovered.
Drake v. Joe Budden
More recently, Joe Budden has been nipping at Drake's heels. Budden's beef with Drake surrounds a series of subliminal disses that the podcaster and rapper felt Drake had thrown his way on tracks like "4pm In Calabasas." The savage split in audience shouldn't bother Budden too much, though; he claimed in a Thursday interview that he "don't care about none of that fame, success, attention, none of that." That's good.
Notorious B.I.G. v. Tupac
Both rappers consistently summit many fans' and artists' top five dead-or-alive lists, but it seems Tupac keeps more listeners coming back for more. He also cut more than three times the number of albums that Notorious B.I.G. dropped in his lifetime, which could also explain the spread. It's interesting since one of Mic and Spotify's similar data pulls revealed Notorious B.I.G. command the biggest share of total listeners. That seems to suggest Tupac has the a more devoted fan base that keep coming back for more, but Biggie's song appeal to a much wider range of listeners.
Rick Ross v. 50 Cent
This is the beef that never ends. It's nearing a decade old this year, and both rappers are still evaluating it in interviews. "At this point, my relationship with Curtis is really amusing, due to the fact that I'm the biggest L he ever took," Rick Ross said in a January interview. The numbers tell a different story.
Lil Kim v. Eve
Lil Kim has built an empire out of her various beefs. Some of them were more successful than others. Her feud with Eve was one of the more silent ones. It didn't make it onto any huge records, but, according to Eve, the two artists were not on speaking terms for years. They eventually made up, but through it all it looks Eve was able to maintain more momentum out the scrap.
Lil Kim v. Nicki Minaj
There was probably a brief moment where Lil Kim thought that beefing with the next boss female rapper would help revitalize her career, even though Kim insisted Nicki Minaj started it. That moment passed quick. For better or for worse, hip-hop has a new queen.
Talib Kweli v. Mos Def
Talib Kweli and Mos Def were never exactly in direct rivalry with one another. They were actually once a team, the two halves of Black Star, but they couldn't keep their partnership going for more than one album. Both have had extremely prolific solo careers, but the Mighty Mos has remained the one commanding the bigger fan base, despite not dropping a project since 2009's The Ecstatic.
Read more: