RNC 2016 Full Recap: Highlights, Worst Quotes, Biggest Moments and More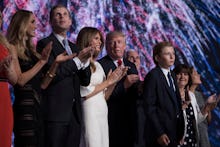 As with all things Donald Trump, the 2016 Republican National Convention could hardly could hardly be described as by-the-book. 
Though at the end of the four-day event, the red, white and blue balloons fell on the billionaire businessman, now the formal Republican presidential nominee, the path getting there wasn't without its drama.
Day 1
Rep. Steve King (R-Iowa) was among the first to make waves on the opening day of the RNC, saying in an interview with MSNBC he believes white people have been the biggest contributors to civilization.
"I'd ask you to go back through history and figure out, where are these contributions that have been made by these other categories of people that you're talking about, where did any other subgroup of people contribute more to civilization?" King said to host Chris Hayes.
Later on the convention stage, former New York City Mayor Rudy Giuliani made controversial statements on police brutality and race in America, stating, "When [police officers] come to save your life, they don't ask if you're black or white. They just come to save you." He went on to exclaim that there's no "black" or "white" America, "there is just America."'
These comments, however, were later overshadowed by scandal surrounding Melania Trump's speech, parts of which were found to be borrowed from Michelle Obama's 2008 Democratic National Convention address. On Tuesday, Melania's the Trump campaign revealed Meredith McIver as Melania's speech writer. 
"Over the phone, she read me some passages from Mrs. Obama's speech as examples," McIver said in a statement. "I wrote them down and later included some of the phrasing in the draft that ultimately became the final speech."
Day 2
On Tuesday night, Trump officially clinched the party's presidential nomination, boasting just under 500 more than the 1,237 delegates required of him. Indiana Gov. Mike Pence also officially won the vice presidential nomination.
House Speaker Paul Ryan announced the GOP's 2016 ticket, striking a somewhat conciliatory note later in his speech saying, "Democracy is a series of choices. Republicans, we have made our choice."
New Jersey Gov. Chris Christie was also a prominent name on the speakers' list Tuesday, and heaped on the anti-Hillary Clinton message that became one of the themes of the night. 
The roster rounded out with speeches from two of Trump's children, Tiffany Trump and Donald Trump Jr., who spoke to their father's kindness and compassion as well as his qualifications to be president. 
Said Trump Jr., "This is the most important election of our lifetime, one that will determine the future of our country and in turn, the future of the world."
Day 3
Texas Sen. Ted Cruz made it clear on Wednesday that just because he was making an appearance at what was ostensibly a Trump affair, didn't mean he was going to endorse him.
Cruz told the crowd of thousands to "vote your conscience" — that is, don't vote for Trump.
Though NBC reporter Katy Tur tweeted that Cruz seemed to have gone off script — his original speech was times at nine minutes while the one he delivered went on for a whopping 23, according to Tur. Trump claimed he was in on it all along.
Former candidate Ben Carson also took the stage Wednesday with what many saw as a bizarre speech implying that Clinton admires, or at least "acknowledges," Lucifer. 
"This is a nation where every coin in our pocket and every bill and our wallets has 'In God We Trust,'" said Carson. "So, are we willing to elect someone as president who has, as their role model, somebody who acknowledges Lucifer? Think about that."
And, of course, conservative radio host Laura Ingraham appeared to, for a moment, salute Hitler. 
Day 4
The RNC's big finale brought with it sexist comments from Trump campaign manager Paul Manafort, who told MSNBC he believes women are struggling financially not because of the gender pay gap, for one, but because their husbands can't afford to pay their bills.
When news anchor Chris Matthews pressed him further, Manfort dodged the question, adding, "Because they can't afford their lives anymore. That's the point. To some people, it's a matter of jobs."
Later, PayPal cofounder Peter Thiel slammed the GOP for its anti-gay messages, accusing Republican politicians of starting "fake culture wars," which of course, only Trump calls out.
Thiel told the crowd he's "proud to be gay."
Then there was the big one: the Trump speech (the contents of which were leaked Thursday evening).
Trump accepted the nomination to raucous cheers, chants and applause and delivered his address with the gusto that's become the candidate's signature, hitting topics such as ISIS, immigration and jobs.
Trump came down hard on Clinton as expected, but gave a surprising shout-out to Vermont Sen. Bernie Sanders, saying the system was "rigged" against" the Democratic candidate. He went on to say that he expects not just Sanders' supporters but "millions of Democrats" to join the Trump "movement." 
"My opponent asks her supporters to recite a three-word loyalty pledge. It reads: 'I'm With Her,'" Trump said. "I choose to recite a different pledge. My pledge reads: 'I'm with you — the American people.'"
Read more: