Peter Thiel Criticizes the GOP for Starting "Fake Culture Wars" With Anti-LGBTQ Platform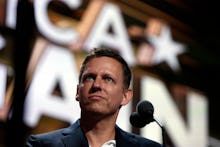 Peter Thiel, an openly gay billionaire and co-founder of PayPal, declared he is "proud to be gay" during a speech at the Republican National Convention in Cleveland — and slammed the GOP creating "fake culture wars" in their anti-LGBTQ party platform.
"I don't pretend to agree with every plank in our party's platform. But fake culture wars only distract us from our economic decline. And nobody in this race is being honest about it except Donald Trump," Thiel said, to loud cheers from the audience.
Republicans included a number of anti-LGBTQ policies in the party platform adopted at the RNC this week.
That includes support gay conversion therapy, anti same-sex marriage language, as well as condoning businesses who deny service to gay patrons based on religious beliefs.
The platform has been condemned by the Log Cabin Republicans, who denounced the platform as the "most anti-LGBT platform the Republican Party has ever had."
Watch the full moment here:
Read more: