Donald Trump's RNC Speech Says the US Is More Dangerous Than Ever — Here's the Truth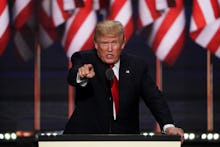 Donald Trump painted a grim picture of the United States when accepting the Republican nomination for president Thursday night in Cleveland, saying homicides and crime have risen over the course of President Barack Obama's presidency.
But Trump's claim that crime has increased and the country is more dangerous than ever falls in the face of data that proves otherwise.
"Homicides last year increased by 17% in America's 50 largest cities," Trump said in his address at the Republican National Convention. "That's the largest increase in 25 years. In our nation's capital, killings have risen by 50%. They are up nearly 60% in nearby Baltimore."
However the Washington Post, which conducted a study on homicides in U.S. cities, said that data is misleading.
While crime saw an uptick in 2015, overall crime is down by a wide margin since the 1980s — and had fallen overall over Obama's presidency, according to the Post's data.
Capitol Hill newspaper Roll Call also found that both violent and property-related crimes have fallen steadily since 2004, when President George W. Bush was in office.
Overall, the Post showed murder rates fell by a large margin from 2000 until 2015.
Overall, during his doom-and-gloom address, Trump said "decades of progress made in bringing down crime are now being reversed by this administration's rollback of criminal enforcement."
The data proves otherwise.
Read more: