15 Types of Pasta, From Linguini to Campanelle, Explained in One, Simple List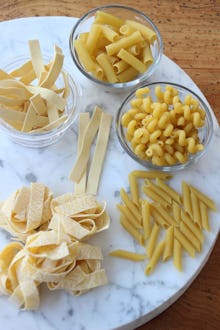 There are few greater joys in life than having a large bowl of pasta in front of you. When noodles and sauce (and sometimes vegetables, meat and cheeses) combine in just the right way, it's a magical experience. While Italian pastas are typically made from just a handful of ingredients: flour, water and eggs, they can be cut and formed into many shapes and sizes. 
Certain styles of noodles work better for certain sauces. If you're looking to twirl up butter and parmesan, a spaghetti shape is best. For those who want to stab their fork at a plate of thick round noodles doused in a meat ragu, pick rigatoni. And be sure not to neglect quirkier shapes of noodles, like the kinds that look like ears, corkscrews, quills and bells. 
And hey, haven't you heard? Science says that pasta (in small portions) may even help you maintain a healthy weight. That's reason enough to explore the 15 noodle shapes below, and whip up all sorts of satisfying meals (we won't tell if you decide to you eat pasta for breakfast). 
Strozzapreti 
Penne
Penne, which translates to "pen" or "quill," get its name because it is cut at an angle to resemble the tip of a quill. The pasta originates in Campania in Southern Italy, according to BBC Good Food. It's best paired with heavy meat sauces or baked in a cream sauce. 
Macaroni
Campanelle 
Orecchiette
The name of these small, round, bowl-like noodles actually translates to "little ears," Food52 noted. The concave center of the noodles make them great at catching things like peas, pancetta and small shreds of cheese. Toss them with a lighter sauce, like olive oil, so that the pasta does not get overpowered. 
Spaghetti
Linguine
Bucatini
Pappardelle
Lasagna
Orzo
Fusilli
Conchiglie 
Rigatoni
Ravioli 
Read more: