Elton John Fears for the World if Donald Trump Is Elected President — Here's Why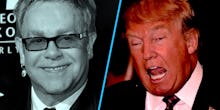 DURBAN, South Africa — A potential Trump presidency makes Elton John "fear for the world" — at least when it comes to fighting the global HIV crisis.
The musician and longtime AIDS activist was in Durban this week for the 21st International AIDS conference. On Wednesday, the Elton John AIDS Foundation and the U.S. President's Emergency Plan for AIDS Relief, or PEPFAR, announced the first two recipients of a $10 million fund to "address stigma, discrimination and violence" experienced by LGBT people, and to expand their access to HIV care and prevention.
The next day, after meeting with HIV-positive adolescents at KwaZulu-Natal Children's Hospital, John and husband David Furnish sat down for an interview with Mic.
"If you are in a country where it's illegal to be gay and they're withholding your medicine because you're gay, we will get them the medicine," John said of the $10 million LGBT fund. "If you're in prison or you're incarcerated for being gay, we will get you legal help — we will get you out of prison."
"So it's going in on the ground and helping these people overcome their HIV status."
What a Trump presidency means for the HIV epidemic
"I fear for the world, globally, with the AIDS situation ... [if] Donald Trump gets to be president," said John, who performed at a fundraiser for Hillary Clinton in March. "He'll marginalize people. He's already doing it."
Discrimination fuels the HIV epidemic. HIV is 19 times more prevalent in men who have sex with men and up to 49 times more prevalent in transgender women than in other adults — and it's not because the virus is magically drawn to people of certain sexualities or gender identities. Rather, it's because HIV thrives among folks who are persecuted for being who they are, according to Furnish.
"Pushing people away contributes to people's shame," Furnish said. "It also makes them feel less likely to seek information about sexual health, less likely to have a dialogue with their doctor about their medication, less likely to feel confident and comfortable picking their medication up."
"It takes everything and just pushes it into the shadows — and that's where this disease thrives," he continued. "It thrives on the disenfranchised. It thrives on the marginalized."
Though Trump has promised to support LGBT people, and has been touted by his gay supporters as "the most pro-gay Republican nominee ever," his record undermines these talking points. 
Trump has said he'd appoint Supreme Court justices to overturn marriage equality. 
Trump also chose Mike Pence as his running mate. Pence has supported Indiana's "religious freedom" legislation, opposed same-sex marriage and civil unions and advocated putting HIV/AIDS funds toward conversion therapy instead.
"They're insane, basically — in a nutshell, they're insane," said John, who has asked Trump to stop using his music for campaign events. "Let's cut to the quick here."
As for Pence, who's proclaimed his deep Christian faith, "I don't see any Christian act in him — you're not a Christian in a million years," John said. "You're probably the furthest thing away from Christianity there is." 
It's not just the LGBT stigma. John, Furnish and other activists fear Trump will cut funding to PEPFAR, the U.S. initiative, established under President George W. Bush, to fight HIV worldwide. 
In October, Trump was asked if he would "commit to doubling the number of people" receiving treatment through PEPFAR. "Yes, I believe so strongly in that and we're going to lead the way," he answered. Some activists remain skeptical. 
Trump has said he would repeal the Affordable Care Act, a move that would make it harder for people with HIV to get the care they need. Only around 13% of people with HIV have private health insurance, and around 24% aren't covered at all, according to the Department of Health and Human Services. 
"We've set a target of 2030 to end AIDS, and we know we can do it, but we can't take our foot off the accelerator," Furnish said. "And if people start cutting their funding now and if they start pulling back, it's going to actually set a lot of the progress that we made backwards." 
In Trump's campaign strategy, "I haven't heard one hopeful word," John said.
Currently, Trump has no official HIV policy.
They're still optimistic. 
Earlier in the day, John had spoken at the conference about HIV among adolescents. In his speech, he vowed to fight the HIV epidemic until he dies — though hopefully, it won't take that long.
"They're predicting 2030 — I hope beforehand," John said. 
Medically and scientifically, we have all the tools we need, as Charlize Theron pointed out. The next step is conquering the stigma surrounding HIV — not just of the disease itself, but of the groups of people disproportionately affected by it.
"We have to beat the stigma," John said. "The way to reduce stigma is to make sure that everyone feels loved and included."
"And we have to make them feel that HIV is not a shameful disease."
Jordyn Taylor reported from South Africa on a fellowship with the International Reporting Project. 
Read more: