Elizabeth Warren Said Trump Sounded Like a "2-Bit Dictator" in His RNC 2016 Speech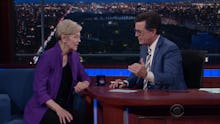 Following the finale of the Republican National Convention Thursday night, Massachusetts Sen. Elizabeth Warren appeared on the Late Show with Stephen Colbert to share her opinions on the four-day event. And she had some strong ones.
"I thought it was the nastiest, most divisive convention we've seen in half a century," said Warren. 
The senator came down hard on Trump's acceptance speech in particular, which went on for a record-breaking hour and 15 minutes, saying, "He sounded like some two-bit dictator of some country you can't find on a map." 
Colbert pressed Warren on questions about whether the tone of the Republican nominee's campaign is a response to anger and unrest, especially when it comes to what Trump's repeatedly called a "rigged" system in the nation's capital.
"There are a lot of reasons to be angry," said Warren. "But let's be really, really clear — Donald Trump does not have the answers."
Many seemed to agree with Warren on Thursday night, arguing that amid Trump's lengthy speech which hit topics such as immigration, terrorism, jobs and taxes, Trump failed to offer a single concrete solution. And while, Warren admitted, Washington is a stacked deck, she believes Trump only seeks to right it for his own personal gain.
"He just takes care of Donald Trump, first, last and everything in between," said Warren. The "system," of course, has historically benefitted billionaires like Trump, she added.
Warren maintained that the Democratic party offers a more egalitarian alternative.
She explained, "The Democrats answer is to say, 'We gotta use our voices, we gotta use our votes, we gotta take back government and make it work for all of us.'"
Read more: