Jon Stewart Takes Over 'The Late Show,' Lets Loose on Trump Supporters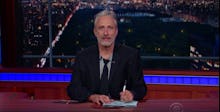 It turns out all we needed to get Jon Stewart to return to late-night was have the Republicans nominate Donald Trump as their presidential candidate. (OK, so that was a pretty big ask.) On Thursday night's episode of The Late Show, Stewart delivered a vintage, scathing retort to Trump followers and Fox News' political commentators for their support of the real estate mogul. 
Appearing from underneath regular host Stephen Colbert's desk (he needed to borrow a clip-on tie, it's been a while), Stewart wasted no time in sharing his thoughts on the Republican party. 
"The Republicans appear to have a very clear plan for America," Stewart says. "They articulated it throughout the convention. One: jail your political opponent. Two: inject Rudy Giuliani with a speedball and a Red Bull enema. And then three: spend the rest of the time scaring the holy bejesus out of everybody." 
Per Stewart, this also includes blatant hypocrisy when comparing President Barack Obama to Trump. Through the lens of Fox News host Sean Hannity — whom he refers to as "Lumpy" through the monologue — Stewart demonstrates how the things Obama were criticized for, such as his lack of political experience, divisiveness and "elitist" attitude, needn't apply to Trump. 
After a handful of convincing examples of this double-standard in action, Stewart unleashed a memorable rant against Hannity and his constituents: 
Either Lumpy and friends are lying about being bothered by thin-skinned, authoritarian, less-than-Christian readers-of-prompter being president, or they don't care, as long as it's their thin-skinned prompter authoritarian tyrant narcissist. You just want that person to give you your country back, because you feel that you are this country's rightful owners. There's only one problem with that: This country isn't yours. You don't own it. It never was. There is no real America. You don't own it. You don't own patriotism. You don't own Christianity. You sure as hell don't own respect for the bravery and sacrifice of military, police and firefighters. Trust me. I saw a lot of people on the convention floor in Cleveland with their Blue Lives Matter rhetoric, who either remained silent or actively fought against the 9/11 first responders bill reauthorization. I see you, and I see your bullshit. I see it!
Finally, after a quick shoutout to Lin-Manuel Miranda and Hamilton, Stewart ended with a vulgarity that would've triggered CBS' censors, if not for Colbert intervening. 
"Those fighting to be included in the ideal of equality are not being divisive," Stewart concludes. "Those fighting to keep those people out are. So, Lumpy, you and your friends have embraced Donald Trump. Clearly the 'C' next to your names don't stand for constitutional or conservative, but cravenly convenient." 
Clearly, Stewart didn't need time to shake off the rust — just enough absurdity from the GOP and Fox News to warrant a timeless verbal barrage. 
Watch Stewart's full rant from The Late Show below.
Read more: