Here's Everything to Get Excited About for the iPhone 7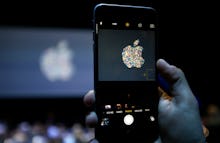 Should you buy the iPhone 7? Or hold out for the iPhone 8? 
We're a few months away from the iPhone 7's inevitable unveiling, and the rumors about Apple's next device abound. While not everyone is enthusiastic about the iPhone 7 — in a recent survey, only 9% of people said they'd want to buy one if it's not extensively redesigned — there are plenty of new features to be excited about. 
Stronger glass
This week, Corning announced Gorilla Glass 5, which survives drops from more than 5 feet with up to an 80% success rate. It's not yet confirmed if Gorilla Glass 5 will be used on the iPhone 7, but signs point to yes. Corning said its Gorilla Glass 5 will be commercially available in products "from leading global brands later this year." This could be a huge improvement.
An improved camera
Thanks to social media (we're looking at you, Instagram), iPhone photography has become an important part of many of our lives. Apple seems to get that. It's unclear exactly what the iPhone 7's camera will look like, but we have reason to believe that it will be significantly improved. 
Some rumors and alleged leaks show a dual-lens camera, which would allow for better, sharper photos overall. 
Other supposed leaks show the iPhone 7 with a larger camera lens rather than a dual-lens camera.
Better speakers
The next iPhone is probably going to lose the headphone jack in favor of a single lightning port. This has some clear negative consequences: You'll probably have to get a special attachment to use your current headphones, or you'll have to get new ones. The good news: Without a headphone jack, there may be extra speaker grills on the bottom of the iPhone 7, which could mean better sound when you're playing music out loud. (Also, without that headphone jack, there might be room for a bigger, longer-lasting battery... we can only hope.)
We don't know much for sure about the iPhone 7, but we do know that the iPhone 8 is rumored to be even more improved, with an all-glass body and edge-to-edge screen. So as exciting as the iPhone 7 is, if your current phone is working fine, you might want to wait another year. 
Read more: