Major Lazer, Justin Bieber and MØ Release "Cold Water" and the Internet Bursts Into Flames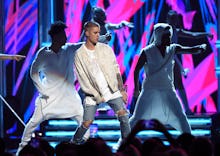 Is it too late now to say sorry to all the other artists who released new music this week? "Cold Water," Major Lazer's hotly anticipated track featuring Justin Bieber and MØ, dropped online Friday at midnight and only needed a few hours to become the No. 1 song across the globe. 
The collaboration sounds like yet another dancehall recreation of the wildly successful "Lean On" by Major Lazer, MØ and DJ Snake, with a little more flair like Bieber's "Sorry." Clearly, fans are still hungry for club pop, as the track soared to the top spot in at least 46 countries in just a few hours on iTunes. The song is also available for streaming on Apple Music, Spotify and Tidal, as well as on YouTube. 
"Cold Water" was cowritten and produced by Benny Blanco and Ed Sheeran along with Diplo of Major Lazer, who said the group of artists had been working to find a hit to write together for quite some time. 
"I had been trying to link with Benny Blanco and Ed Sheeran for years to find the right song we could all work on together, and the moment I heard this one, I knew that it was the one," Diplo, one of Major Lazer's founders, said in a statement sent to Mic. "The timing was perfect, and when we approached Justin, he was also in love with the song we all had written. I thought it would be interesting to incorporate another vocal and, seeing she's family, I reached out to MØ and we decided to try our best to make something fresh and interesting."
The release sent some fans into a state of frenzy across social media on Friday, as Beliebers, Major Lazor fans and MØ fans alike celebrated the new summer anthem.
Read more: