New "ANTM" Judge Ashley Graham Expertly Claps Back At Body-Shamers On Instagram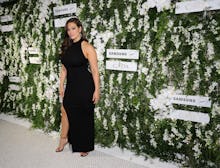 Model Ashley Graham has had her fair share of haters. There was that time Cheryl Tiegs said she was too unhealthy to appear on the cover of the Sports Illustrated Swimsuit Issue. There was that time a modeling agent waved $20 bills in her face, telling her to lose weight. And then there was that time everyone insisted that her Maxim cover was digitally altered, which she adamantly refused. 
Now, people are taking issue with the fact that she might have lost weight. 
On Thursday, Graham, 28, posted a picture of herself wearing a white knit two-piece with a brown leather jacket on Instagram. Some commenters remarked that she looks much too thin to still be considered a plus-size model. 
More than 1000 comments have rolled in, including "she's losing too much weight" and "I knew it, you did lose a lot of weight! I am no longer a fan of yours you betrayed a lot of people."
"The issue is she is one of the models that represents bigger women in the industry and then in like 2 or 3 months she appears to be way thinner than before," another commenter wrote.  "Us bigger girls are tired of being represented by women that are not our size and don't know the struggle of being big and wanting to be fashionable." 
But Ashley Graham has no time for your body shaming, whether it's about her gaining too much weight, or, in this case, appearing to have lost some.
In a comment to her followers, she wrote: "People come on my page and body shame me because I'm too big, because I'm too small, because I'm not good enough for their standards... But at the end of the day, I'm good enough for me. Angles will make anyone look bigger or smaller and I just happen to know mine." 
After Graham spoke her mind, her fans rushed in to support her, arguing with anyone who dared to question Graham's looks or weight. 
"Who's the idiot that asked where her curves went? She's plenty curvy still and looks great. Work on yourself before you judge others," one commenter wrote. Another: "She looked great before & she looks amazing now! Hating on someone for taking care of themselves just shows a lack of maturity of the haters." 
And just like that, Graham was able to not only stand up for herself, but also women around the world who may just gain or lose a few pounds every now and again. 
Read more: